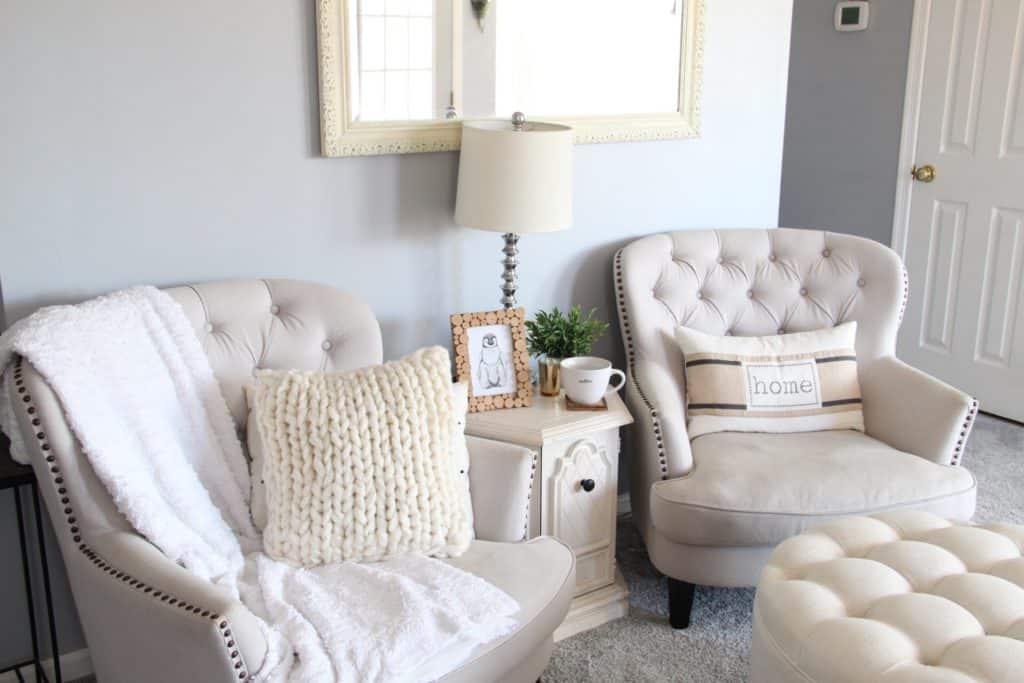 I'm sure you have seen these chunky knit pillows in your favorite home decor blogger's house. They are perfect for adding some texture and a touch of cozy to a room. These chunky knit pillows work up really quickly and easily, you don't even need to know how to knit to make them!
This post contains affiliate links, which means I make a small commission at no extra cost to you. As an Amazon Associate I earn from qualifying purchases.
As soon as I saw these chunky knit pillows showing up online, I knew I needed to figure out a way to make them myself. I can't help it, the DIY gene is just in my blood. It's a blessing and a curse, I think.
These come together just as easily as my chunky knit blanket tutorial that I shared on youtube and here on my blog.  When I figured out this way of knitting with my hands I knew other people needed to know about it. I decided to make my very first youtube video showing all about how to make it and based on the nearly half million views that video has, I'd say others have found it quite helpful as well. I have gotten countless emails and messages from viewers telling me how happy they are with their blankets they have made using my technique. It really is so simple, I even got an email from a mother whose 9 year old made a huge blanket using some chunky yarn and my technique.
For this tutorial I decided to make the pillow one sided. If you wanted, you could get 4 skeins of yarn rather than two and knit two squares instead of one, stuff the pillow form inside and then stitch the two pieces together. But I wanted to make two pillows(for my mother-in-law for Christmas, shhhh!)so I kept them one sided. It's very common to see pillows one sided like this. I looked around at all my throw pillows and none of them had prints on both sides, so it seems right.
If you are looking for a last minute gift idea, this is it! This yarn is available on amazon prime and you could have it in a few days giving you plenty of time to whip up a pillow or two. It's beautiful and handmade, who wouldn't want a gift like that?
Okay, let's get into the tutorial!
Supplies You Need To Make A Chunky Knit Pillow
Needle and Thread
Scissors
Check Out My Chunky Knit Pillow Youtube Tutorial
How To Knit A Chunky Pillow
I'l start by saying it is very difficult to explain how to make this in text, so please see my video for step by step instructions, I think you will find it very helpful! But in case you are a pro knitter already, I'll write them out for you below.
First you will start by creating a base chain that is the width of your pillow.
Then from there you will begin making uniform loops across the base chain in each of the stitches. Continues this until you have reached the size you want and finish off the stitches(see video for finishing). Then take a needle and thread and carefully whip stitch the knit square onto the pillow form. Being careful to make sure your corners are nice and neat(also see the video).
There you go! Told you it was easy 🙂
I hope you found this tutorial helpful! Please stick around and subscribe to my youtube channel. I make at least 2 new videos and blog posts every week on natural living, cooking from scratch and DIY projects, thanks for stopping by!
Pin It For Later