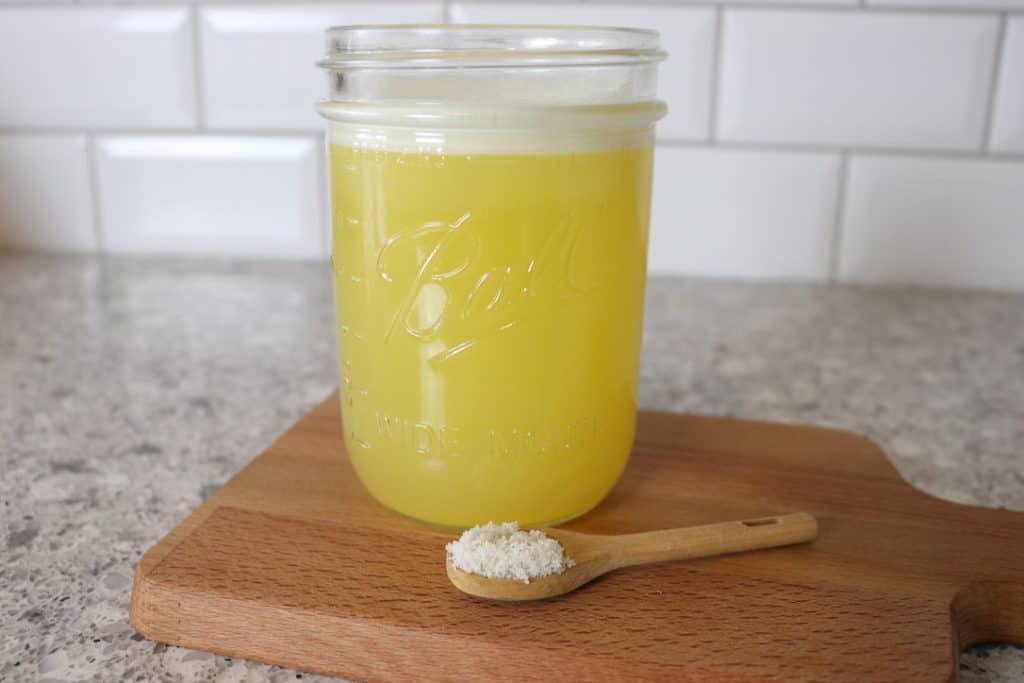 This homemade electrolytes drink is wonderful for rehydrating after a stomach virus, influenza, food poisoning or even physical exertion. This energy-boosting electrolyte drink is such a refreshing and healthful way to recharge and nourish your body after an illness.
This post may contains affiliate links, which means I make a small commission at no extra cost to you. As an Amazon Associate I earn from qualifying purchases.
We all know that gut-wrenching feeling when your little one starts complaining of a tummy ache and you just know it's a stomach bug. I know my mind starts racing thinking about what the next few days will hold. Once one child catches a stomach virus it's only a matter of time before the rest of them catch it too. Those viruses are relentless and definitely cause me a lot of stress.
When I encountered our first stomach virus when my kids were really young, I went to the store in search of an electrolytes drink and I remember being completely shocked at the ingredients in the pedialyte drinks that are recommended. Have you ever looked at the ingredients in those electrolytes drinks?
Put Down The Pedialyte and Gatorade
Here are the ingredients in Pedialyte:
Water, Dextrose. Less than 2% of: Citric Acid, Natural & Artificial Flavor, Potassium Citrate, Salt, Sodium Citrate, Sucralose, Acesulfame Potassium, Zinc Gluconate, and Yellow 6.
You might be surprised by those ingredients, or maybe you aren't. But I will tell you briefly why these ingredients are not a wise choice for you or your children on a good day and especially not when they are sick.
Dextrose or high fructose corn syrup(in some gatorades) are derived from GMO corn, which also means they've likely been sprayed with glyphosate. Natural flavors aren't natural at all. These are flavorings made from anything that was once "natural". After that we see the minerals and then Sucralose which is a toxic artificial sweetener. Ugh! I can't believe that sucralose is in a child's drink that is recommend by Pediatricians everywhere. Lastly you will see the food dyes which have been linked to hyperactivity and behavioral issues in children. Yikes!
Natural Alternatives to Pedialyte and Gatorade
It's very easy to replenish and nourish you and your children's bodies with healthy minerals without also exposing them to GMO corn sweeteners, artificial sweeteners and flavors or food dyes.
This natural electrolytes drink recipe is so easy and you probably already have these ingredients on hand. Let's dive in.
Electrolyte Drink Ingredients
Juice
Any type of juice without any added sugars. I really enjoy the citrus juices and have had great luck with plain orange juice. You can also use freshly squeezed orange juice if you have oranges on hand. We will dilute with water so it won't be too acidic for sensitive tummies.
Raw Honey
Raw local honey is a phytonutrient powerhouse. It has antifungal and antibacterial properties, helps soothe digestive issues and is a great source for antioxidants. If you can't source your honey locally, my second favorite is this brand of organic raw honey, and bonus – amazon ships it straight to my door – WIN!
Celtic Sea Salt
Our most important ingredient is Celtic sea salt. This particular brand of sea salt was recommended by my nutritional therapist and I use it for our everyday table salt, in recipes etc. It has over 74 vital trace minerals and elements, including sodium chloride, magnesium, potassium, calcium, iron and more! I buy the large bag of finely ground salt for less than $10 on amazon and it lasts our family a really long time.
To finish off the recipe you just need 2 cups of filtered water and a half a cup of ice. We use a berkey water filter for our drinking water. If you have never heard of the Berkey water filter, I encourage you to look it up and check out all the yucky(fluoride, viruses, pharmaceuticals…) stuff it filters from city water – it just might surprise you!
Recipe & Directions to make this Natural Electrolytes Drink
Blend all ingredients together. Store in the refrigerator in an airtight container, like a mason jar with a lid. I suggest making a new batch every 24 hours or so. I offer it to my children a little bit at a time.
Voila! You have a delicious, refreshing and healthy electrolytes drink to give to your kids or for yourself whenever you need it!
Popsicles
This recipe makes amazing electrolyte popsicles too! Just pour the mixture right into your favorite popsicle molds and freeze them. Kids LOVE popsicles when they have been sick – and not just stomach viruses- any type of cold or flu! These are soothing to the throat and tummy. So much goodness in this recipe.
Want to PIN IT for later? Hover over this image until the red "save" button appears.