I wanted to create an easier way to share all of the best resources and links with my fellow polymer clay earring artists. So without further ado, let's get right into my MASSIVE resource list of only the best and most well-loved tools and supplies for making polymer clay earrings.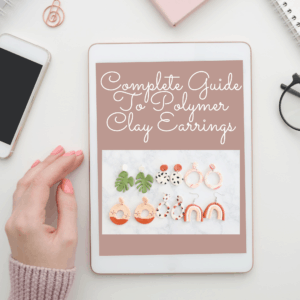 The Complete Guide To Polymer Clay Earrings.
In this complete guide to polymer clay earrings I will be walking you through the steps to make your best earrings yet. I share the best clay for earrings, the best tools and techniques. Whether you want to make these earrings to sell, or just as a hobby, this eBook is for you!
This eBook has 25 pages of my best tips, tools and links to get you started making polymer clay earrings right away!
Etsy Success 2021 – No Fuss Guide For Etsy Success
In this complete guide to getting started on Etsy, I will share my best tips and tricks for opening a successful Etsy shop. I have personally seen the potential Etsy has to offer work-from-home entrepreneurs like you and me and I want to share what I have learned over the last 7 years.
This is a great place to start if you want to start earning an income from your polymer clay earrings.

Clay Color Recipes
If you want your earrings to stand out, you need to be mixing your own colors. Creating color recipes takes a lot of time and can be pretty frustrating – I'm making it super simple for you by providing you with my very best polymer clay color recipes
Customizable Earring Cards
These earring display cards will set your shop apart and really create a beautiful experience for your buyer. These earring cards were designed with the small jewelry shop owner in mind.
Polymer Clay Earring Tutorial Video
The most comprehensive polymer clay earring tutorial on the internet. I cover all of the FAQS from polymer clay artists everywhere. It's a long video, but worth watching. I've got TONS of tips and tricks and tricks a lot of other artists aren't willing to share.
This video is LONG, because I cover EVERYTHING there is to know about making polymer clay earrings: 1. Best Clays 2.Conditioning Clay 3.Best Clay Cutters 4.Drilling Holes 5.Adhering Backs6. Baking Clay Earrings 6.Sanding 7.Assembling With Jump Rings and so much more.
Absolute Must-Haves For Polymer Clay Earring Artists
If you don't know why you need these items or what they are used for, I encourage you to watch my polymer clay video linked just above.
This post may contain affiliate links, which means I make a small commission at no extra cost to you. As an Amazon Associate, I earn from qualifying purchases.
Clay:
Tools:
Clay Cutters by RoClayCo
Oven, your regular house oven works great
Helpful Polymer Clay Tools – But Not Necessary
Atlas 150 Pasta Machine this one costs more, is heavier duty and lasts a little longer. So depending on your goals, you can choose the cheaper one or the one that may last you a lot longer.
Ceramic Tile from hardware store
More clay cutters, like these and these
Silk Screens for cool designs Use KRISTINFAN10 for 10% off your order of silk screens