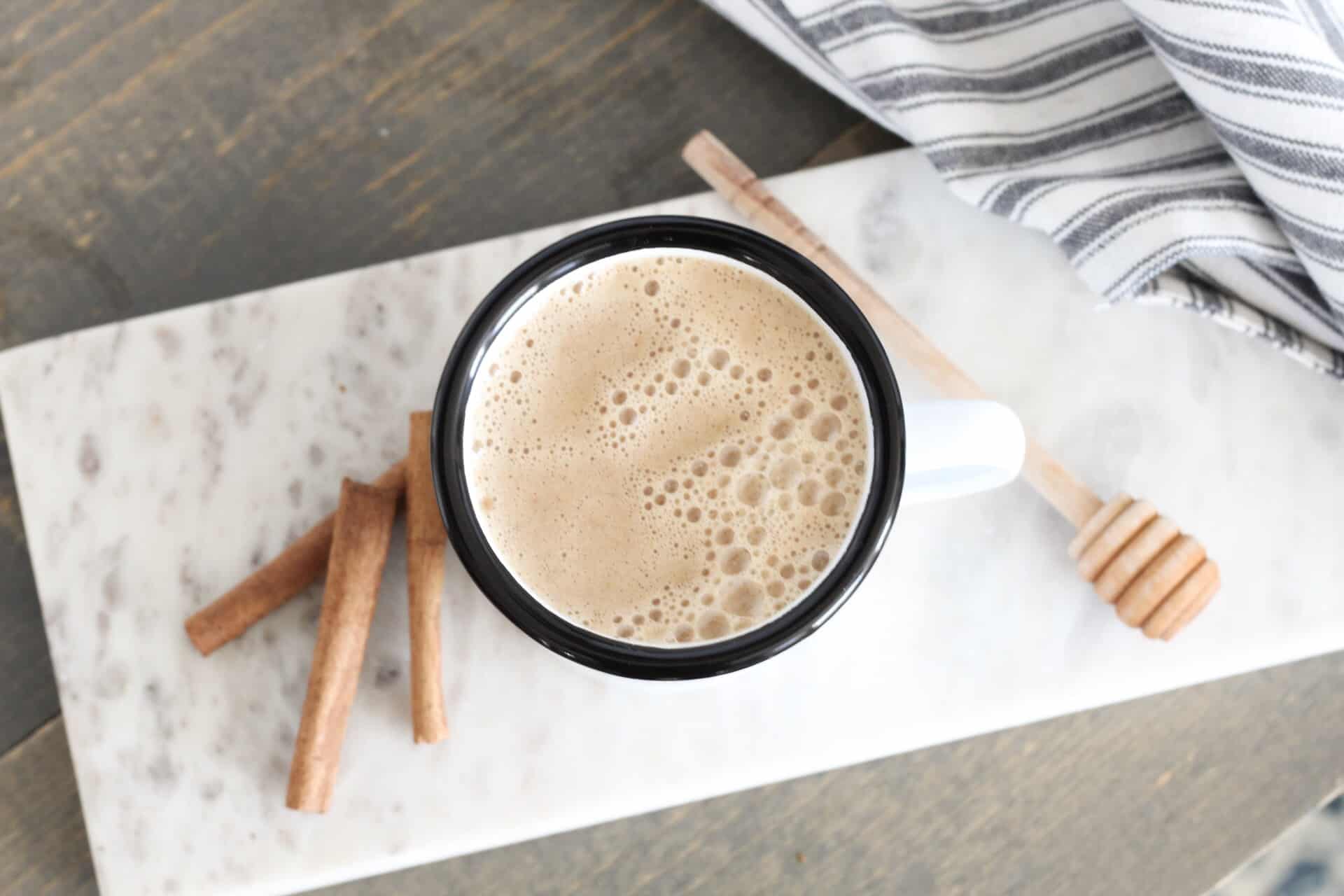 This delicious, creamy, honey cinnamon rooibos tea is the perfect fall and winter drink. It is loaded with healthy fats and those warm spices that call to all of us this time of year. The froth on top makes you feel like you are drinking something extra special!
This post contains affiliate links, which means I make a small commission at no extra cost to you. As an Amazon Associate I earn from qualifying purchases.
We have been drinking rooibos tea for a while now and I love how versatile it is. The flavor is mild, sweet and nutty, which makes it easy to pair with other flavors. The brew comes out a beautiful red color which makes it equally as beautiful as it is delicious. I like switching things up and I'm excited to make a spring and summer version of this bullet-proof style rooibos tea – you can brew this hot or cold!
Health Benefits of Rooibos Tea
Rooibos is an herbal tea, unrelated to black or green teas. It is made using the leaves of a shrub typically grown in South Africa. Rooibos tea is caffeine free which makes it perfect for any time of day.  You prepare rooibos in the same way as most other teas, just add hot water and steep.
Packed with antioxidants, which may aid in the clean up of harmful free radicals in the body that can cause damage to cells.
Some have even noticed that rooibos tea helped improve their digestion.
Coconut Oil + Grass-Fed Butter
Have you heard of bulletproof coffee? It's all the rage these days and everyone is touting the benefits of it. Basically by adding healthy fats to your morning coffee, you can experience a prolonged energy boost, curb carb/sugar cravings, help with mental focus and the list goes on. There is a lot of science behind why and how the fat helps send the caffeine where it needs to go to give you all those benefits, it is quite interesting and definitely worth researching.
While this tea is caffeine free and different from coffee, you still get a lot of health benefits by adding these two ingredients to your honey cinnamon rooibos tea.
Grass fed butter is one of the healthy fats I like to add to this tea. It is high in vitamin K and is actually really good for you. I like to use unsalted kerrygold butter for this recipe and also for making bulletproof coffee.
Next up is organic coconut oil. We all know coconut oil is the wonder oil. People have been singing it's praises for a while now and for good reason. We consume a lot of coconut oil in our house; I cook with it, bake with it, put it in smoothies and drinks, use it on our skin, hair and more. Coconut oil has been shown to lower cholesterol, aid in weight loss, helps with brain function and even kills bacteria and viruses. The list goes on and on, but you get the picture. Putting a scoop of organic coconut oil in your warm beverages is a fantastic way to get coconut oil in to your diet.
https://www.youtube.com/watch?v=so38de3PsYE
Ingredients you will need to make Honey Cinnamon Rooibos Tea
Grass-Fed Butter (I use kerrygold)
Honey(preferably local and raw, but if you can't find it locally, I like this brand)

Printable Recipe:
Honey Cinnamon Rooibos Tea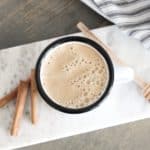 Warm and slightly sweet, this delicious rooibos tea is the perfect drink to warm you up this winter. Loaded with healthy fats and delightful flavors of cinnamon, honey and vanilla, you will keep coming back to this rooibos tea recipe again and again.
2 cups Water
1 tbsp Rooibos Tea Leaves
1 tbsp Grass Fed Butter
1 tbsp Organic Coconut Oil
1 tbsp Raw Honey
1.5 tsp Cinnamon
1 tsp Vanilla
Bring water to a boil

Add tea leaves to a french press or tea kettle

Add boiled water and allow to steep for 10 minutes

While the tea steeps, add the other ingredients to a blender

When the tea is done steeping, add hot tea to the blender

*Caution, make sure your blender allows the heat out while you blend it. I hold the lid down and push the blend button, then I take the vent off the lid of the blender to let the steam out.

Blend ingredients together for 20-30 seconds, until well blended.

Serve immediately
Want to pin this for later? Hover over the image until the red "Save" button appears.