In this article I am sharing all about polymer clay resin. So many people love the look of resin for polymer clay, so let's talk about how to achieve that beautiful shiny look!
What is Resin for Polymer Clay?
Resin is a liquid-like material that hardens/cures over time or with the use of UV light. Once the resin has cured, it offers a beautiful shiny finish to many different craft projects and polymer clay earrings.
There are 2 types of resins commonly used in the craft and polymer clay world, so those are the two we will be talking about in this article.
This post may contains affiliate links, which means I make a small commission at no extra cost to you. As an Amazon Associate I earn from qualifying purchases.
I partnered with Kelci of Clay By K to bring you this post, please check her out here to see more of her amazing work:
Instagram: Instagram.com/ckclaybyk Facebook: @ckclaybyk or Clay by K Etsy: ckclaybyk.etsy.com
Types of Resin for Polymer Clay
I mentioned that there are two types of resin commonly used for polymer clay or other craft projects, those two resins are Epoxy resin and UV resin.
UV resin is a great choice because with the help of a UV light, the UV resin will cure in about 8-10 minutes. Another advantage to UV resin is that there is no mixing involved, just pour the resin on the polymer clay earring, spread it and then place it under the UV light. The result will be a beautiful glossy shine that cures quickly and easily.
Epoxy resin is very similar to UV resin in its end result, but epoxy resin needs to be mixed prior to using. Epoxy resin comes with two parts, the resin material and the hardener – following the directions, they are simple to mix together prior to applying to polymer clay.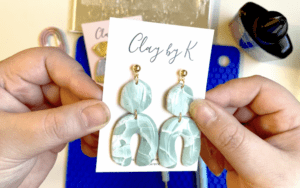 UV Resin For Polymer Clay
Many polymer clay artists prefer UV resin for their pieces. Let's talk about some of the pros and cons of using UV resin on polymer clay.
Pros:
comes ready mixed in a bottle with tip
easy to pour and apply
cures very quickly and easily
can be cured using a UV light or sunlight
hardens nicely and offers a beautiful glossy shine to polymer clay
Cons:
UV resin(and resin in general) is highly allergenic, so proper personal protection equipment is highly recommended while working with resins
cures best with a UV light, which is an added cost
some brands leave a tacky feel on the pieces
UV resin has a tendency to yellow over time
some bubbles may occur(I'll share how to fix that below!)
Epoxy Resin for Polymer Clay
Epoxy resin is preferred by some artists, so I thought it would be worth mentioning in this article. Let's talk about some pros and cons of epoxy resin for polymer clay.
Pros:
offers shiny finish
simple to work with once mixed properly
Cons:
must be mixed prior to using
yellows over time
can leave a tacky feel if not cured properly
has a long cure time of 12-36 hours
bubbles due to the mixing process
Is Resin Toxic?
While resin is not technically acutely toxic, it is highly allergenic – meaning many people have a bad allergic reaction when coming into contact with resins. It is highly recommended that you always wear proper protection while working with resins. Gloves, respirator, apron and proper ventilation are a MUST when using UV or epoxy resins.
How To Apply UV Resin to Polymer Clay
Wear proper personal protective equipment
Have the cured polymer clay earrings ready
Start by gently squeezing the UV resin tube around the perimeter of the earrings, forming a complete circle
Next start to fill in the circle by dragging the tube back and forth between the lines of resin across the earring surface
Use a silicone brush to gentle encourage the UV resin to extend to the edges of the earrings, but not over the edges
Use a lighter or heat gun to pop any surface bubbles in the resin
Place under the UV light as directed by the manufacturer until cured
Supplies For Polymer Clay Resin
uv resin: https://amzn.to/3NEaodd uv lamp: https://amzn.to/3wmYNsW heat gun: https://amzn.to/3wAFewb silicone mat: https://amzn.to/3wqvRAc silicone tip brushes: https://amzn.to/3sHxcAK dremel: https://amzn.to/3lmgkLF respirator: https://amzn.to/3acWSyN gloves: https://amzn.to/3Mpxioj goggles: https://amzn.to/3acWSyN
How To Apply Resin To Polymer Clay Earrings
Wear proper personal protective equipment
Have the cured polymer clay earrings ready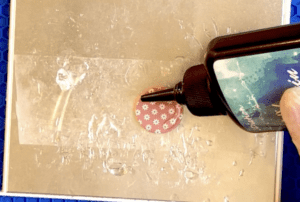 Start by gently squeezing the UV resin tube around the perimeter of the earrings, forming a complete circle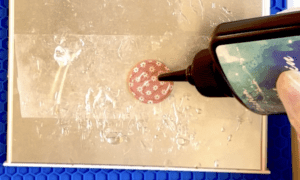 Next start to fill in the circle by dragging the tube back and forth between the lines of resin across the earring surface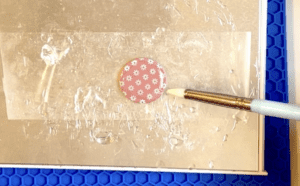 Use a silicone brush to gentle encourage the UV resin to extend to the edges of the earrings, but not over the edges
Use a lighter or heat gun to pop any surface bubbles in the resin
Place under the UV light as directed by the manufacturer until cured