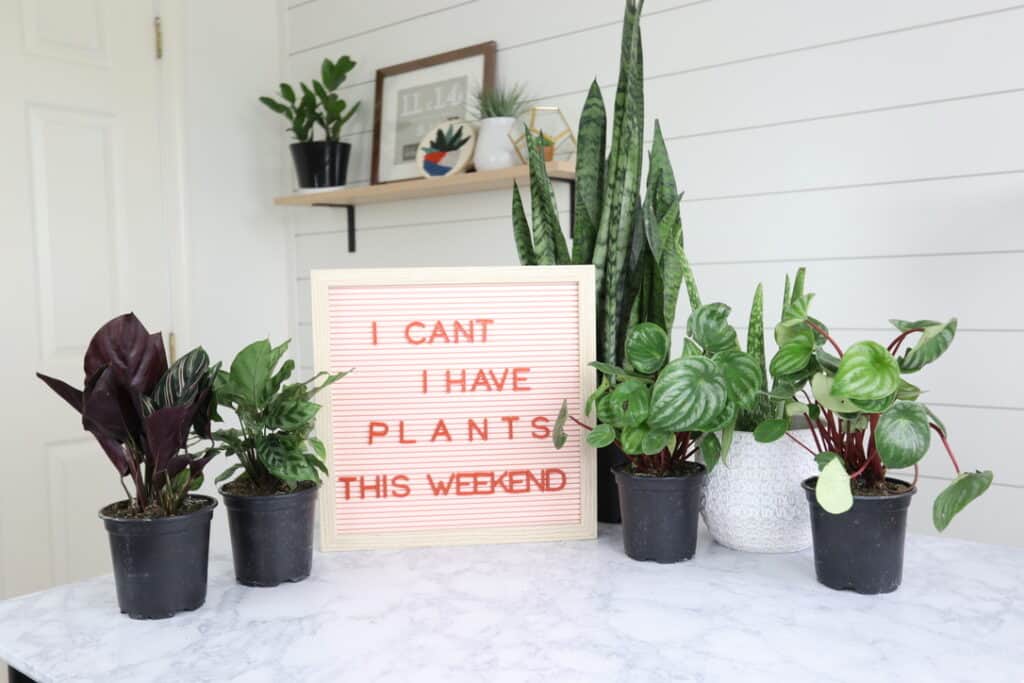 Sansevieria are a beautiful choice for an indoor plant. In this post I will share all about sansevieria care and how to grow snake plants.
You will be glad to know that snake plants are one of the easiest indoor plants to care for. It seems if you almost forget about them, they will thrive 😉 They aren't fussy and don't require much, I'll give you all my best sansevieria tips and tricks so your plants can thrive.
Choosing Your Sansevieria
You want to look for nice bright green foliage. Drooping or wilting leaves are a bad sign. Brown spots on the leaves could be an indicator that the plant has a disease or hasn't been well cared for – try to find one without brown spots.
Another thing I like to do is take a peek at the roots. Just gentle lift the plant from it's pot and make sure the roots are nice and light in color. If the roots are brown, slimy or appear to be decaying, put it back and choose another.
These tips will help you get your hands on the healthiest plant possible and will ensure that you get off on the best foot with your new plant baby.
Watering Your Sansevieria
Sansevieria do not like a ton of water. This is crucial to know before you get your plant. Sansevieria(aka snake plant) do not like their feet wet, meaning they don't like their roots to sit in water. To keep your snake plant happy, you will want to make sure the pot you plant it in has good drainage holes in the bottom and a tray to catch the excess water.
Sansevieria are quite resilient little plants(praise!), but a fast way to kill them is to overload them with water and not have proper drainage in their pot. The excess water will cause their roots to rot and the plant will die.
Let your snake plant dry out completely between waterings. I like to use my finger to gauge if it needs water – I stick my finger in the first 2-3″ of soil and if it's dry, I'll water it a little. But if it feels damp at all, I don't water it.
As far as watering schedules, I water mine every 2-4 weeks and I don't give a really deep watering. I like to just lightly water the first 3-4 inches of the soil and that's enough, if I see a lot of water coming out of the bottom of the pot then I know I overwatered my snake plant.
If your snake plant's leaves are drooping that could be an indication that you are overwatering your plant. Sansevieria are succulents, so they store water in their leaves.
Repotting Your Snake Plant
The first thing you will want to do is repot your new sansevieria plant. If you want your new plant to grow and thrive, it needs more space than the nursery pot it came in. Generally I like to bump up either 2″ or 4″ in pot size from the one it's currently in. So if the snake plant came in a 6″ pot, I would repot it in an 8″ or 10″ pot.
Make sure you use a nice well draining soil and that your pot has drainage holes in the bottom of the new pot – your plant will likely die without proper drainage.
Sansevieria Light Preferences
These plants like bright, indirect light. However, they can also tolerate lower light conditions, so don't be afraid to try it somewhere with less light and see how it does.
My rule of thumb is that if I can read a book in a room for at least 6 hours of the day without needing to use a light, then there is plenty of bright indirect light in that room.
You don't want to place these in direct sunlight as the leaves may burn.
How To Fertilize Snake Plants
Anytime you bring plants in your home, you need to fertilize them. If the plant was growing in its natural habitat, it could reach down into the soil and pull up the nutrients it needs to grow and thrive. But when you bring them indoors, they only have the nutrients in the soil you give them, so when the soil runs out, they don't have what they need to grow.
Fertilizing is very simple, don't let it overwhelm you. My favorite indoor plant fertilizer is so simple to use! I just put a dose in my watering can and fertilize every 4-6 weeks or so, during the growing season.
How To Propagate A Snake Plant
Propagating plants is a really fantastic way to grow your plant collection inexpensively. Snake plants are very easy to propagate and create many new plants to give away to friends or add to another spot in your home.
To propagate a sansevieria plant, pull the plant out of the pot and pull apart the roots. You should be able to see where it would be easy to separate them. Then just separate them and and repot. It's as easy as that!