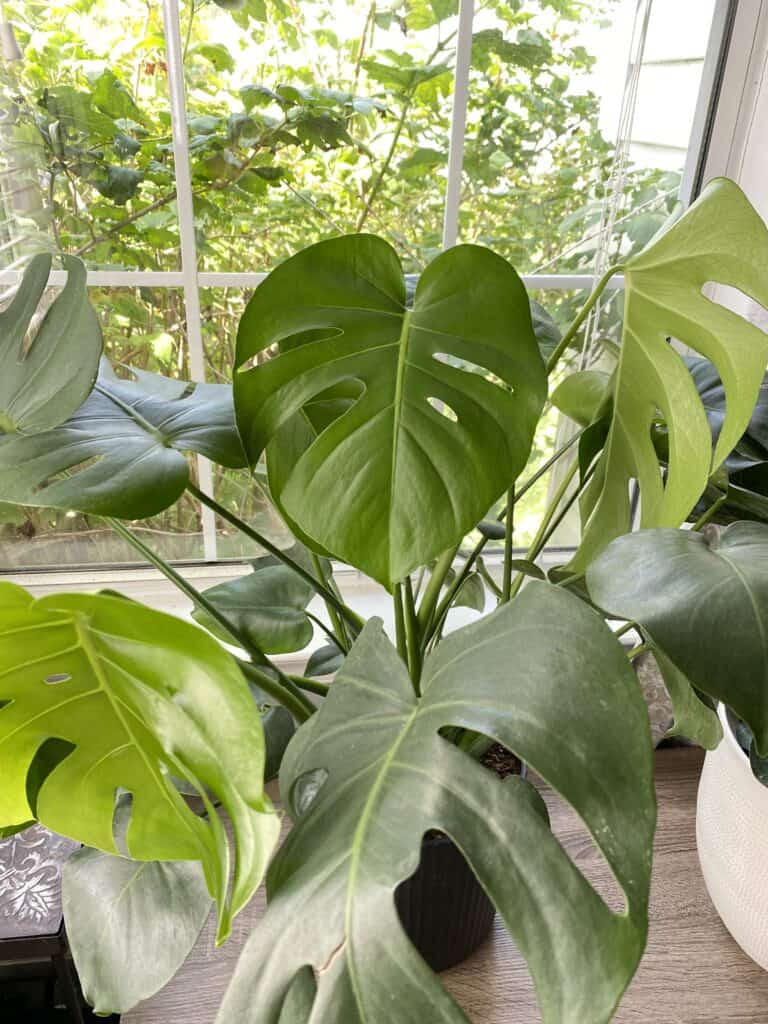 Join me as I share how to properly care for your monstera deliciosa with this plant care guide. I will cover light requirements, watering, soil, humidity and common issues in the monstera deliciosa plant care guide.
The Monstera Deliciosa has gained in popularity over the last couple of years. I am seeing these gorgeous plants popping up everywhere and I absolutely love it.
I couldn't find a monstera for the longest time and I was also nervous about how difficult it would be to care for. With it's luscious green leaves and tropical feel, I was sure it was going to be difficult. But I was wrong! It's one of the easiest plants I own and it turns any corner of your home into a stunning tropical oasis.
How Often Should I Water My Monstera?
You should water your monstera when the top 2-3 inches of the soil is dry. You can allow the soil to dry out slightly, but not too much! Once the top couple inches are dry, give your monstera deliciosa a nice deep watering and that will keep it happy.
Drainage. You need to make sure your pot has drainage holes in the bottom. Your monstera does not like to sit in stagnant water, it will cause the roots to rot and your plant will die.
Monstera Deliciosa Light Requirements
Monstera's like bright, indirect sunlight. I like to say that if you can read a book in the room of your house without a light on for at least 6 hours a day, you should be good.
If you place your monstera too close to direct light, it can burn the leaves, so keep it from windows with harsh unfiltered light coming through.
Sometimes monstera's can tolerate lower light conditions, but generally follow the guidelines above.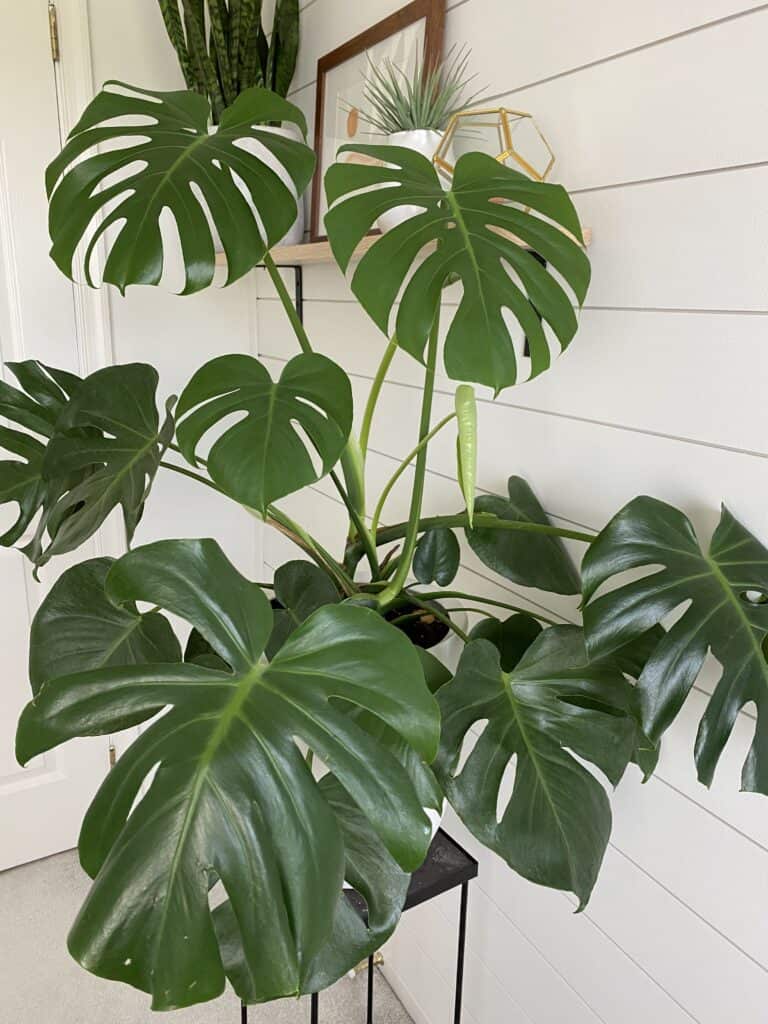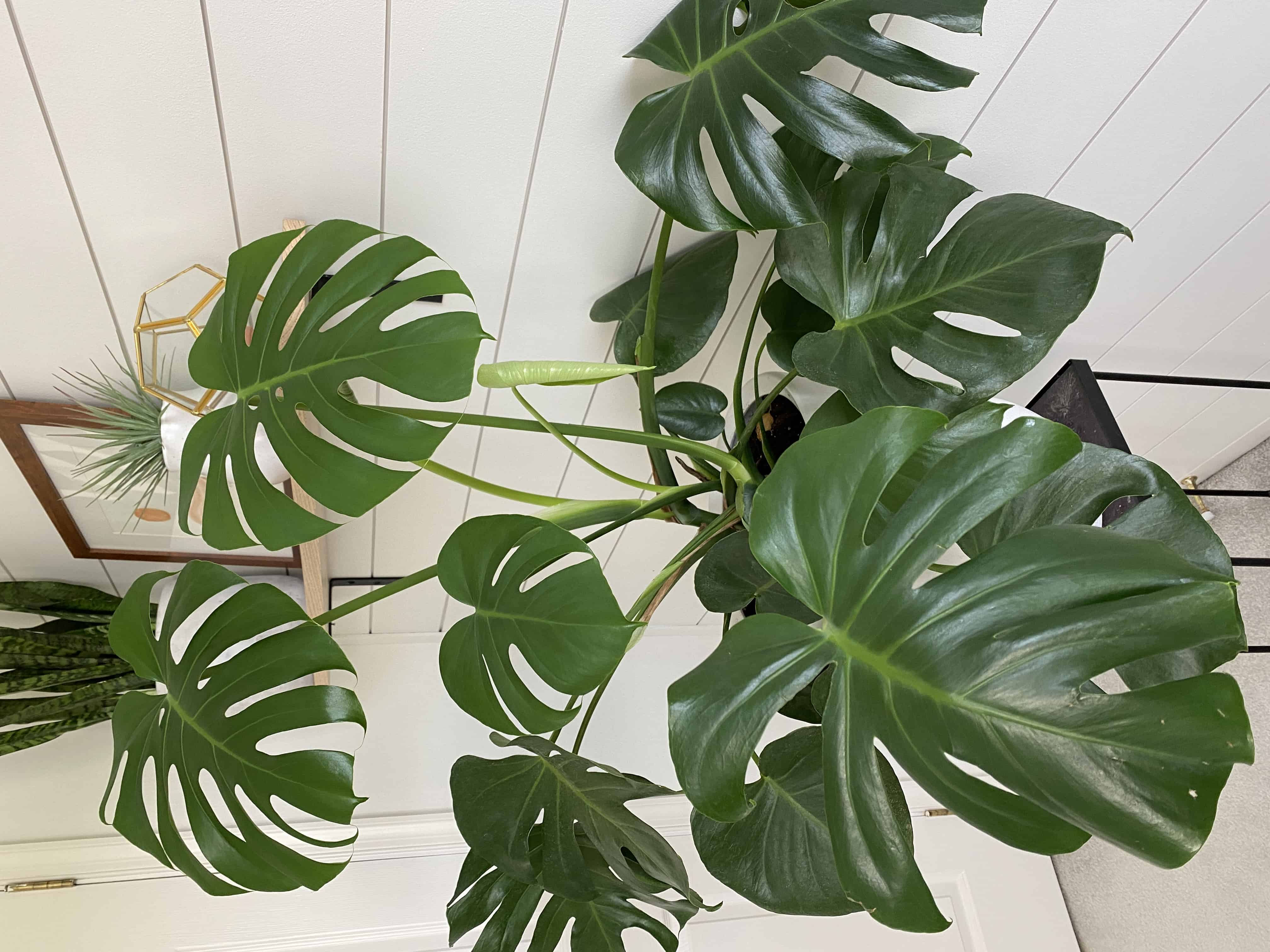 Do I Need To Mist My Monstera?
Yes! Monstera's are tropical plants so they thrive in humidity. You can easily fulfill this need in your plant by using a plant mister, I love this one.
Mist your monstera 1-2x a week and that will keep her happy.
Should I Fertilize My Monstera Deliciosa?
Yes! Your plant can only get the nutrients that you give it because it doesn't have access to outside soils. During the growing season I use this indoor plant fertilizer and all of my indoor plants are thriving.
It has a simple measuring tool built into the lid and you just pour some of the fertilizer in your watering can and water as usual. I fertilize my plants 2x a month during the growing season.
General Monstera Plant Care Tips
Any indoor plant will collect dust on it's foliage, it's very important that you use a damp cloth to clean the dust off. The dust on the leaves with keep it from being able to synthesis the sun properly, so I like to do this every time I fertilize my plants so I don't forget to do it.
Monstera plants are actually climbers! So if you like the sprawling look, you can just pot your monstera as you normally would any other plant, but if you have a tighter space, or like the look of the taller plant, you can add a moss pole. Adding a moss pole in the center of your plant will encourage it to grab hold of the pole and begin climbing upwards. Just a matter of preference here, so you get to choose how to want to monstera to look.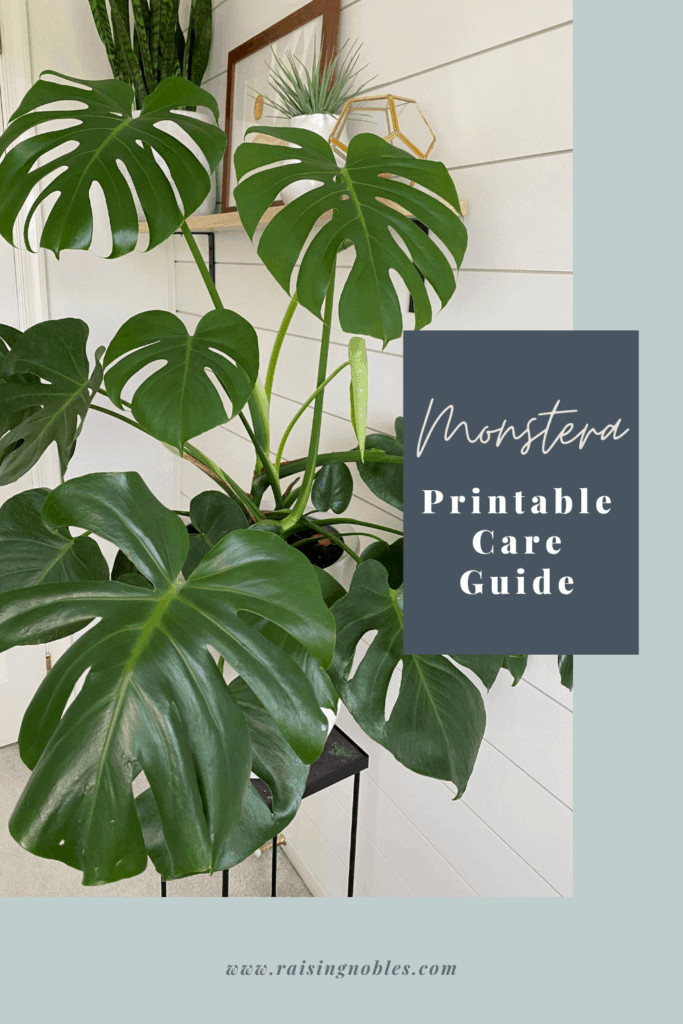 Monstera Deliciosa Printable Plant Care Guide