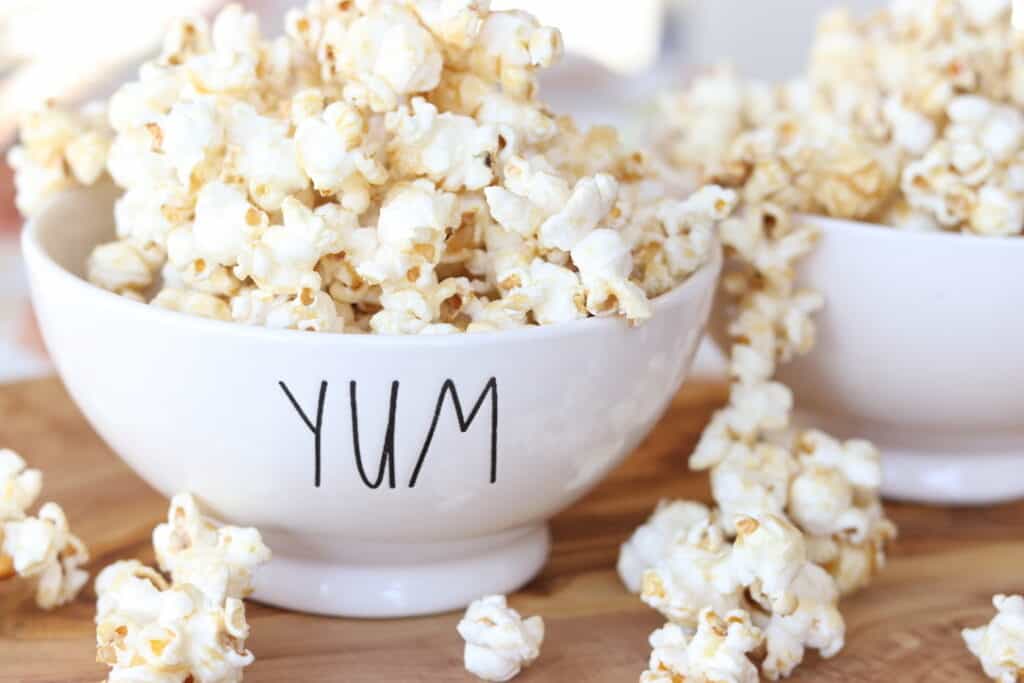 We are huge caramel corn fans around here, but we are also pretty conscience of our health. That is why I came up with this amazing caramel corn recipe without corn syrup! And as a bonus, it uses only 5 ingredients and takes less than 10 minutes to make!
This post may contain affiliate links, which means I make a small commission at no extra cost to you. As an Amazon Associate, I earn from qualifying purchases.
Caramel Corn Recipe Without Corn Syrup
Who doesn't love that delicious buttery, sweet goodness that is caramel corn? I remember loving it as a child and once I became an adult, I realized that I am highly allergic to corn syrup. So I haven't been able to eat caramel corn of any kind for the past 10 years or so.
I have seen recipes in the past, but most of them involve making the caramel and then baking the popcorn for 40 minutes or more. And I don't know about you, but when I want caramel corn, I don't want to wait an hour for it 😉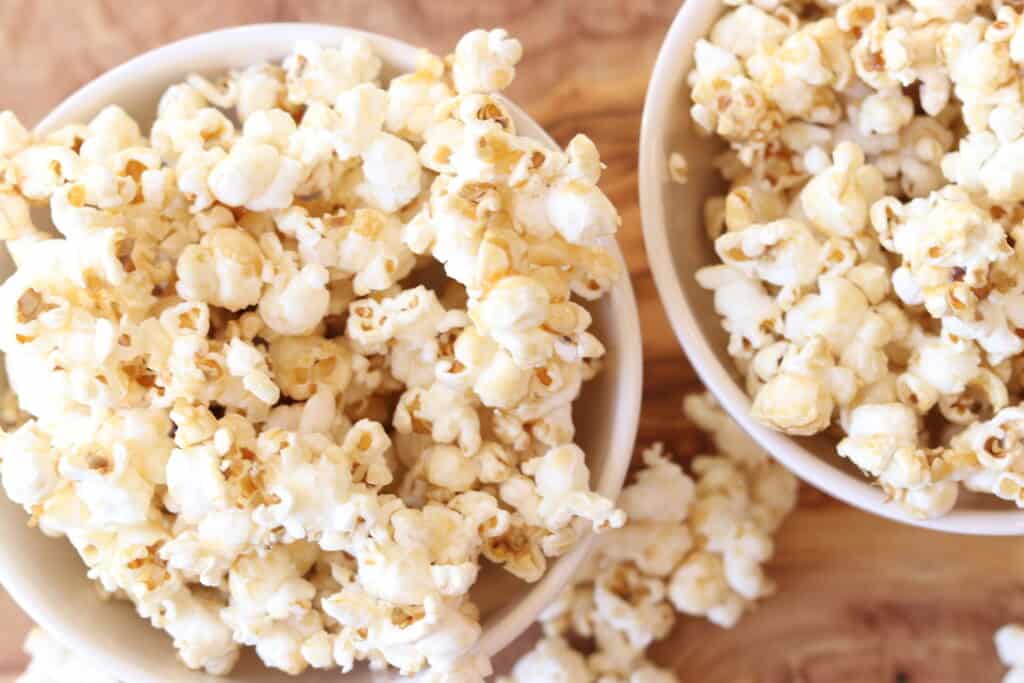 Caramel Corn Recipe With NO Refined Sugars
To take this recipe a step farther(or healthier, should I say?), not only am I not including corn syrup in the caramel corn, but I am also not using brown sugar or any processed, refined sugars. We are sticking to clean, pure maple syrup here. Also we are skipping the butter and using a healthy fat that can handle higher heats, coconut oil.
Do I Have To Bake This Caramel Corn Recipe?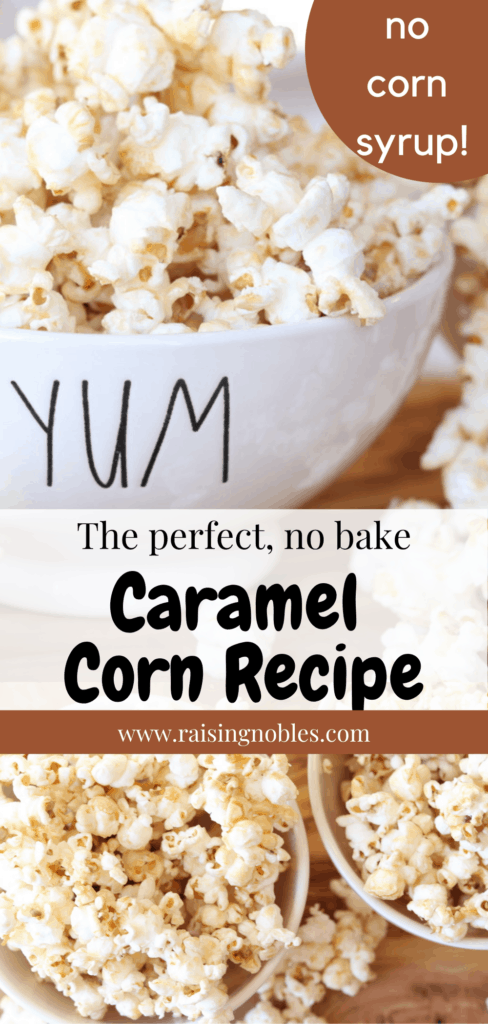 No! Can you believe it? Because of the combination of maple syrup and coconut oil, this caramel corn recipe crisps up on it's own and does not require any baking – that's a win in my book!
Healthier Caramel Corn Recipe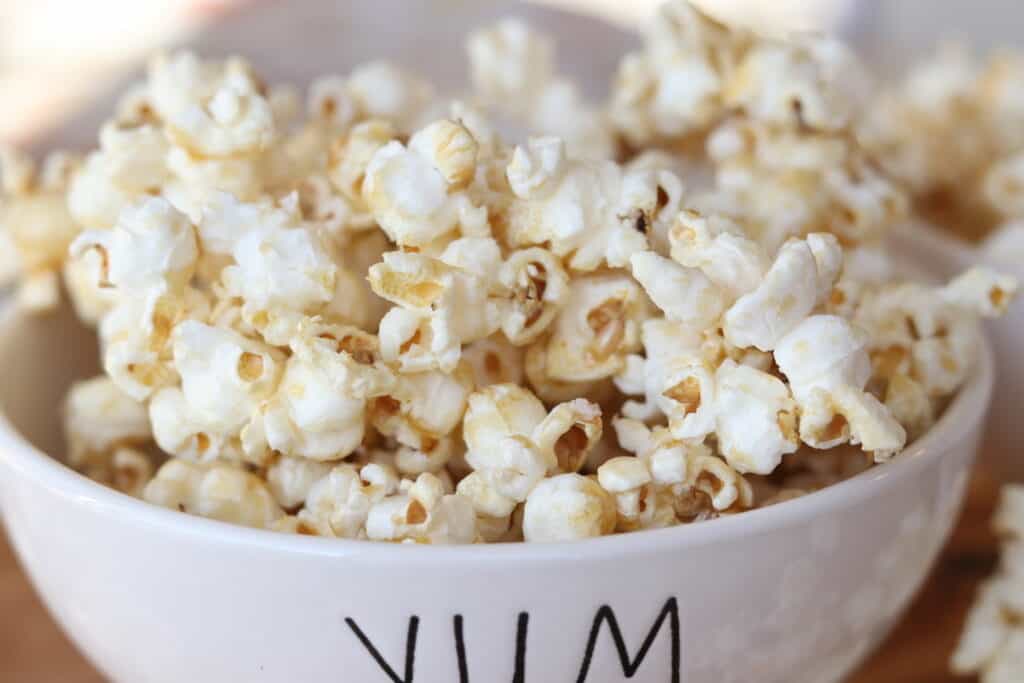 If you want to make this special treat even healthier, you can choose organic popping corn, organic coconut oil and organic maple syrup too. That will ensure that none of your ingredients have any GMOs or pesticides in or on them. Not a requirement for this recipe, certainly, but just in case you are into that.
How To Make Caramel Corn Recipe Without Corn Syrup
First we need to pop our popcorn. Turn a burner to medium high heat, place a large pot on burner with 2 tbsp of coconut oil in it. Put 3 popcorn kernels in the pot and place the lid on the pot. The 3 kernels will tell us when the coconut oil is at the right temperature to pop the popcorn, so watch closely. When the 3 kernels pop, it's time to add the rest of the popcorn.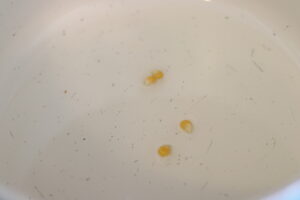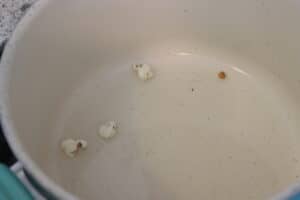 Once those kernels have popped, pour the 1/2 cup of popping corn into the pot and close the lid. Stay very close. don't want your popcorn to burn. As the popcorn starts to pop, gentle shake the pot back and forth to distribute the popcorn evenly. Make sure no popcorn is getting burnt or stuck on the bottom of the pot. Once the popping slows down, you can take the pot off the heat and remove the lid. Set the popcorn aside.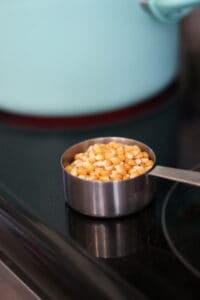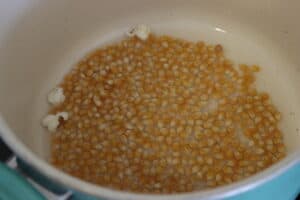 How To Make The Caramel Without Corn Syrup
Now it's time to make our caramel. In a small saucepan over medium heat, place coconut oil, maple syrup and salt. Bring the mixture to a boil and stir constantly for 2-4 minutes.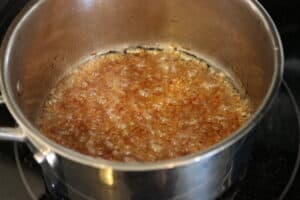 After the caramel has boiled for 2-4 minutes and has thickened, remove it from the heat and add 1.5 tbsp of vanilla.
This is a crucial step, don't miss it – check the popped popcorn for kernels. Remove all of the kernels because if you don't, they will get stuck in the caramel corn and biting into them is no fun!
After you have removed all of the un-popped popcorn, it's time to drizzle the caramel over the popcorn and mix thoroughly.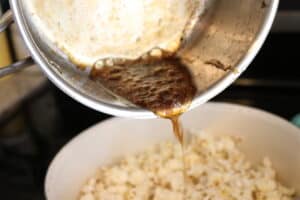 Finally, the very last step is to line a large baking sheet with parchment paper and pour your caramel corn onto the parchment paper. Allow the caramel corn to cool down just a little before devouring 😉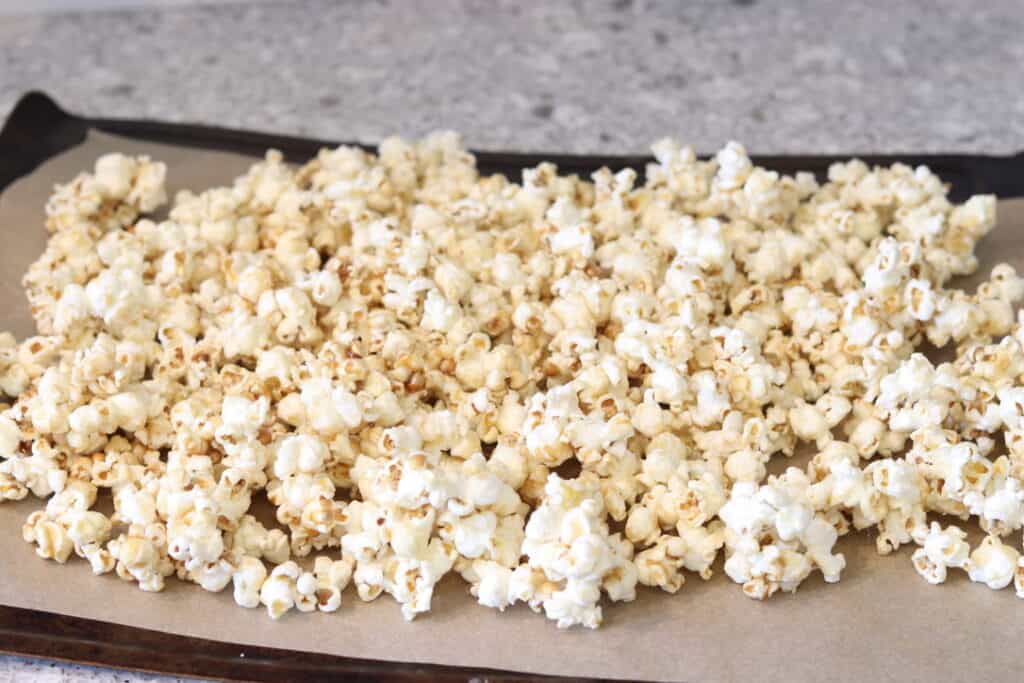 A Healthier Caramel Corn Recipe
I really hope you find this recipe enjoyable and helpful for your family. It is a real passion of mine to make healthier food options accessible to every family. It really doesn't have to be difficult to choose healthier alternatives. Certainly we need to add this caramel corn recipe without corn syrup to my growing list of easy and healthier meal and snack options for families.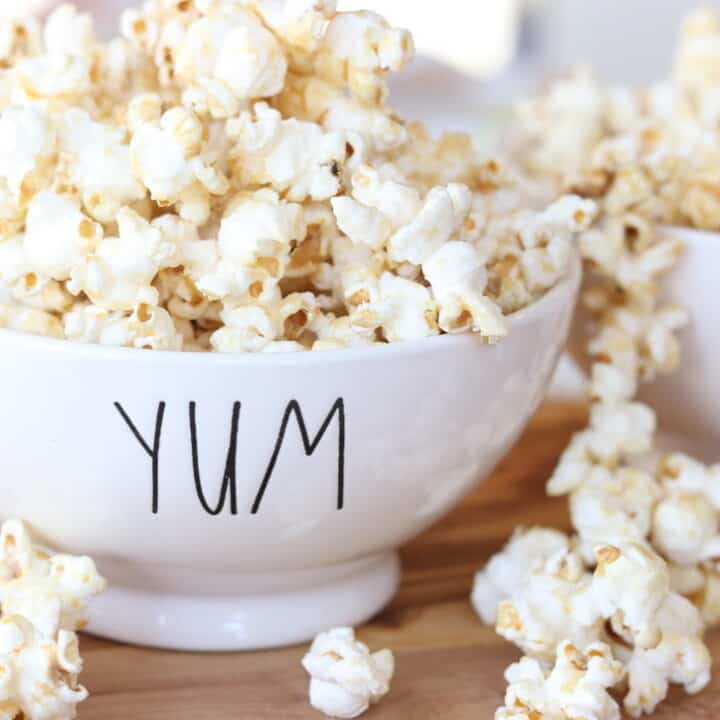 Caramel Popcorn Without Corn Syrup
Ingredients
4 tablespoons Coconut Oil(divided, 2 tbsp and 2 tbsp) https://amzn.to/38dnvPs
1/2 cup Popping Corn https://amzn.to/3nlMvKs
1/3 cup Maple Syrup
1/2 tsp salt
1.5 tbsp Vanilla
Instructions
First we need to pop our popcorn. Turn a burner to medium high heat, place a large pot on burner with 2 tbsp of coconut oil in it. Put 3 popcorn kernels in the pot and place the lid on the pot. The 3 kernels will tell us when the coconut oil is at the right temperature to pop the popcorn, so watch closely. When the 3 kernels pop, it's time to add the rest of the popcorn.
Once those kernels have popped, pour the 1/2 cup of popping corn into the pot and close the lid. Stay very close. don't want your popcorn to burn. As the popcorn starts to pop, gentle shake the pot back and forth to distribute the popcorn evenly and make sure no popcorn is getting burnt or stuck on the bottom of the pot. Once the popping slows down, you can take the pot off the heat and remove the lid. Set the popcorn aside.
Now it's time to make our caramel. In a small saucepan over medium heat, place 2 tbsp of coconut oil, 1/3 cup maple syrup and 1/2 tsp of salt into the saucepan. Bring the mixture to a boil and stir constantly for 2-4 minutes.
After the caramel has boiled for 2-4 minutes and has thickened, remove it from the heat and add 1.5 tbsp of vanilla.
This is a crucial step, don't miss it - check the popped popcorn for kernels. You will want to remove all of the kernels because if you don't, they will get stuck in the caramel corn and biting into them is no fun!
After you have removed all of the un-popped popcorn, it's time to drizzle the caramel over the popcorn and mix thoroughly.
The very last step is to line a large baking sheet with parchment paper and pour your caramel corn onto the parchment paper. Allow the caramel corn to cool down just a little before devouring 😉