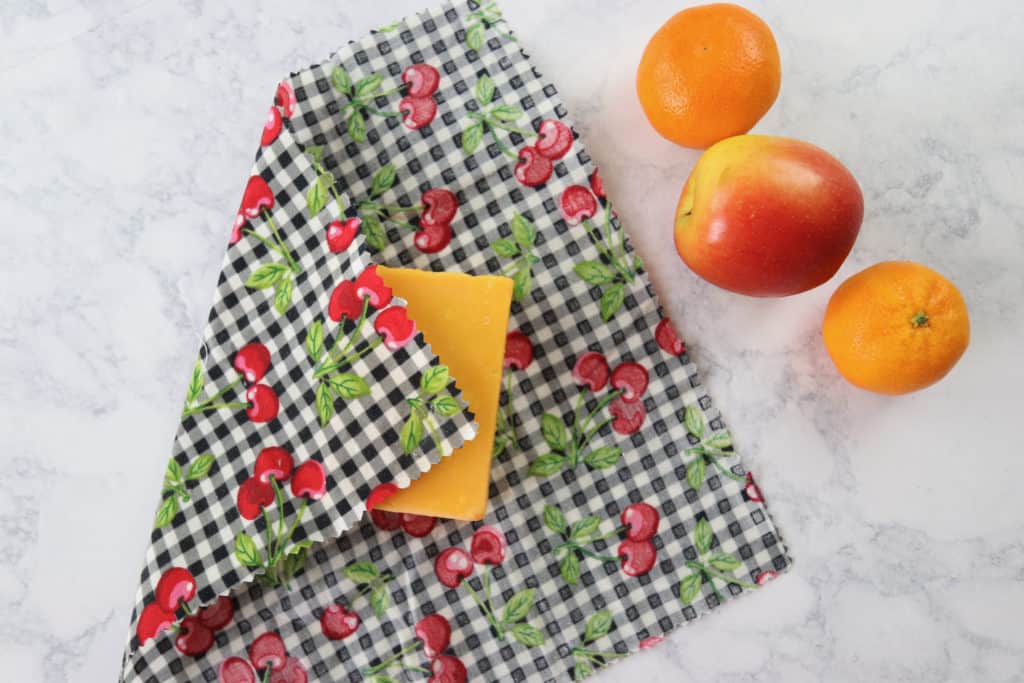 Learn how to make your own beeswax wraps at home with this simple tutorial. DIY Beeswax wraps are a fantastic alternative to single-use plastics like ziplock and cling wrap. They are 100% compostable and a great sustainable alternative to plastics.
Thank you so much for stopping by! This post contains affiliate links, I receive a small amount of compensation if you choose to purchase from my links (for example – as an Amazon Associate I earn from qualifying purchases). I only link to products that I know and love.
Homemade Beeswax Wraps
As a mother of 4 young children, plastic bags were my go-to for snacks, especially for my on-the-go 20 month old who can't sit still. I would use a plastic snack bag multiples times a day, toss in some raisins or a cut up apple and send her on her way. After meals I would grab for the cling wrap to store our leftovers and I didn't think anything of it, until recently. We had some family visiting from New Zealand and they were shocked by how much plastic Americans used. It really caused me to pause and think.
Beeswax wraps are a wonderful, sustainable alternative to plastics. The beeswax wrap is reusable, biodegradable and it even has antibacterial properties in it! How cool is that?!
What are beeswax wraps?
Beeswax wraps are usually made of cotton or linen fabrics and they become pliable when you melt a thin layer of beeswax onto one side of the fabric. You can make beeswax wraps in any size and they don't require any sewing. These wraps are a great alternative to ziplock bags and cling wrap. You can wrap fruits, veggies, cheeses, sandwiches and many other foods(just no meat!).
The warmth of your hands causes the beeswax wrap to become more pliable and sort of "seals" the food in the wrap. Some people even use pine resin in their beeswax wraps for added stickiness – I haven't tried this yet, but I definitely want to! They are soft and very easy to clean – just cool water and mild dish soap!
What can I use DIY beeswax wraps for?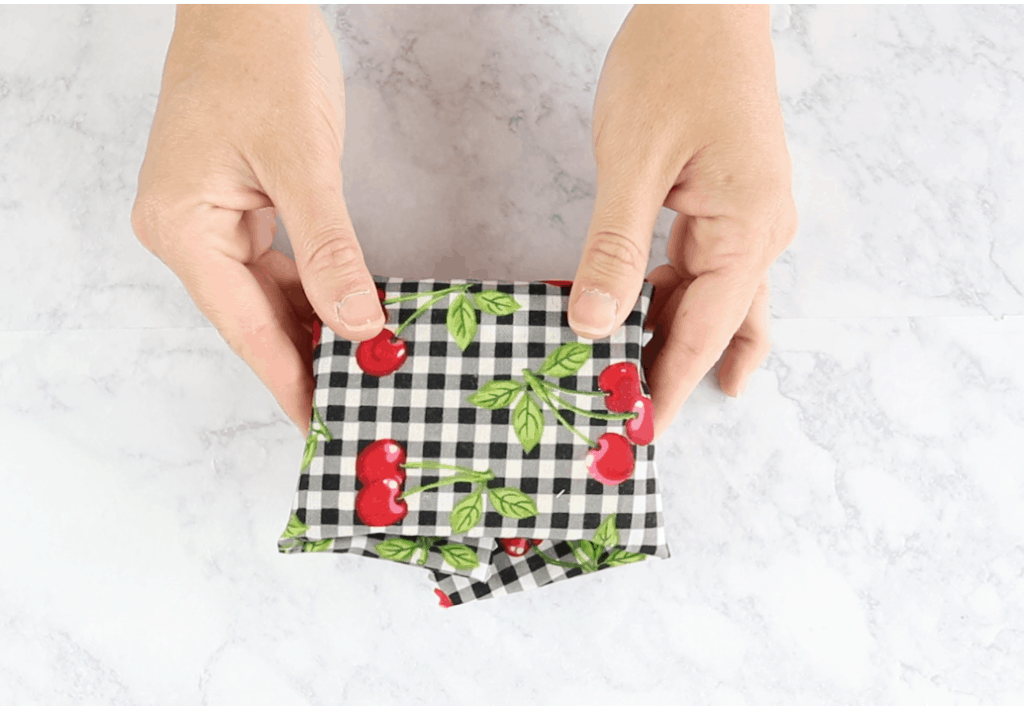 Beeswax wraps are so versatile – you can make them in any size you want! You can wrap sandwiches, breads, fruits and veggies. You can even sew the finished wrap into a reusable bag with velcro or a button closure – so many options with these!
Can beeswax wraps be frozen?
Yes! You can freeze your beeswax wraps, but they don't give an airtight seal, so if you are freezing something for longer than a couple days, you should probably choose a different method – such as glass food container or mason jar.
Can beeswax wraps be microwaved?
No – the wax will melt and ruin the wrap. It's best to avoid using beeswax wraps in the microwave.
Can I buy beeswax wraps?
Yes you definitely can. There are companies that specialize in making them and you can find them on amazon. But they will run you about $18 for a pack of 3. Knowing how inexpensively I can make them at home, I couldn't never bring myself to pay that price.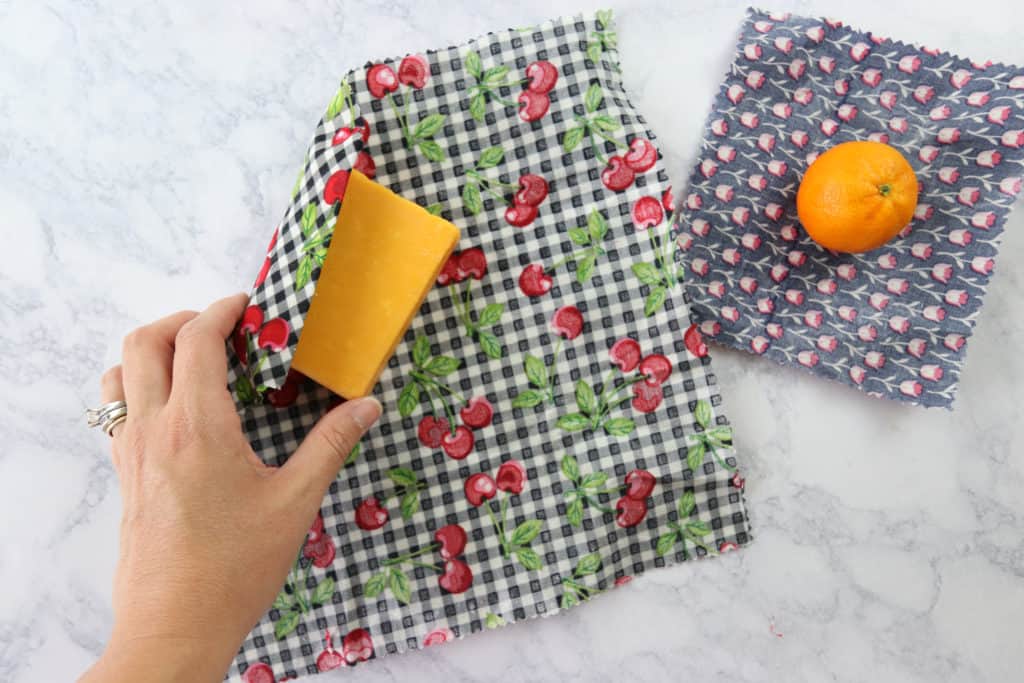 How long do beeswax wraps last?
They can last 6, 8 or even 12 months! When they start to lose their stickiness, you can reapply the beeswax using the exact same method, or you can compost them.
Can beeswax wraps be used on meat?
No – you shouldn't use beeswax wraps to store meat, however it's perfectly fine to wrap a deli meat sandwich in a wrap.
How to make DIY beeswax wraps
Supplies
Cotton Fabric: I LOVE these yellow fabrics:
Old towel you don't care about
Start by cutting out your fabric. I like 13×13 inch squares, also 10″ and 8″. 6″ is great for smaller items and you can even make circular beeswax wraps by tracing a large mixing bowl.
On an iron-safe surface, lay down an old towel or piece of fabric you don't care about getting beeswax on – it's very difficult to get off fabrics!
Using a kitchen grater, grate your beeswax bar
Place your fabric piece right side up and sprinkle your beeswax all over the surface of the fabric in a nice even layer
Place a piece of parchment paper(that is at least an inch or two bigger than your wrap) over the fabric and beeswax pieces.
Using a medium temp iron, slowly press and iron across the parchment paper, melting the beeswax into the fabric
Lift your parchment paper to see if you missed any spots, you can easily add more beeswax to fill in any gaps
Allow your beeswax wrap to cool completely and then use your pinking shears to trim off the very edges
And that's all there is to it! Now you know how to easily and inexpensively make your own diy beeswax wraps at home!