Join me as I share this DIY Chunky Knit Blanket Tutorial. I will walk you through all the steps to make your own chunky blanket DIY. This chunky knit blanket tutorial is SO easy, anyone can do it, even kids!
DIY Chunky Knit Blanket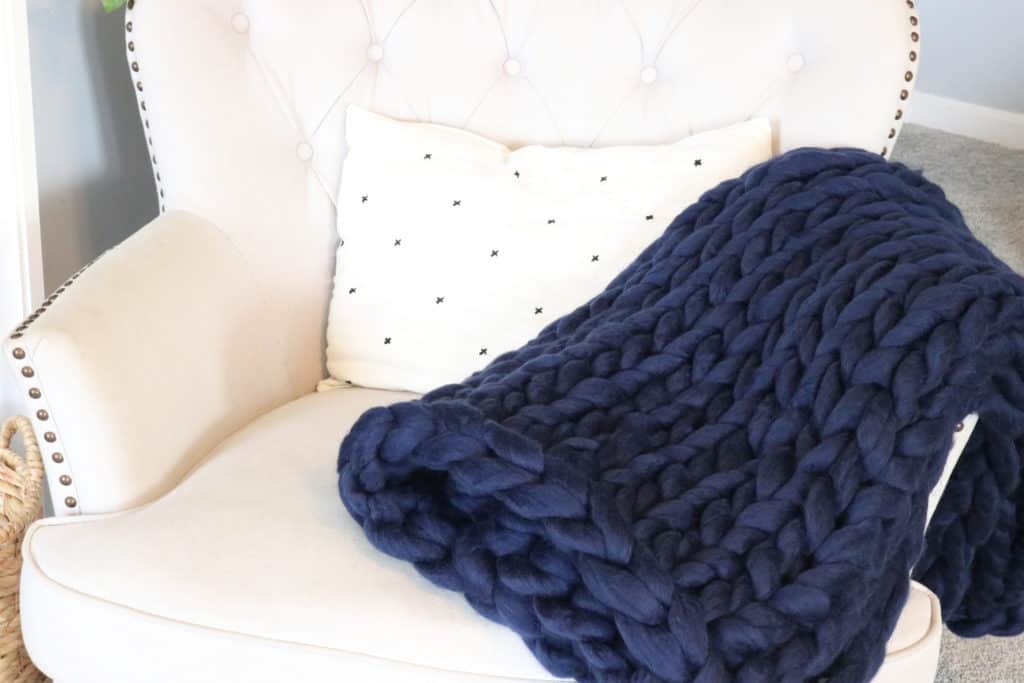 If you are looking for a very simple tutorial about how to make a DIY chunky knit blanket, you have come to the right place. I have made many chunky knit blankets over the past several years and I love trying out new yarns for these fun blankets.
I am sure you have seen the beautiful chunky throw blankets. They look amazing draped over a couch or chair or even tucked in a basket next to the fireplace. The gorgeous chunky texture and softness just can't be beat.
As soon as I saw these chunky knit blankets a few years ago, I knew I needed to have one. But when I saw the price tag($300-$400), I decided I needed to figure out how to make one myself.
And not only did I figure out how to make a chunky knit blanket for less than $20(like the one in the picture below), but I also discovered a technique that requires ZERO tools and ZERO knitting experience.
This post may contains affiliate links, which means I make a small commission at no extra cost to you. As an Amazon Associate I earn from qualifying purchases.
Chunky Knit Blanket NO TOOLS REQUIRED!
I know, it sounds too good to be true right?! How is it possible to make such a beautiful knit pattern on these blankets without giant knitting needles? I'm so glad you asked 😉
Using this simple technique, all you need is yarn(we will go over the best yarns to use next), a flat surface like a table and your hands. Seriously, that's it.
And the best part? I am going to walk you through all the steps in this post. From choosing the best yarns, to beginning and finishing the blanket. You will get it all right here, so if you want to make a DIY chunky knit blanket, you are in the right place.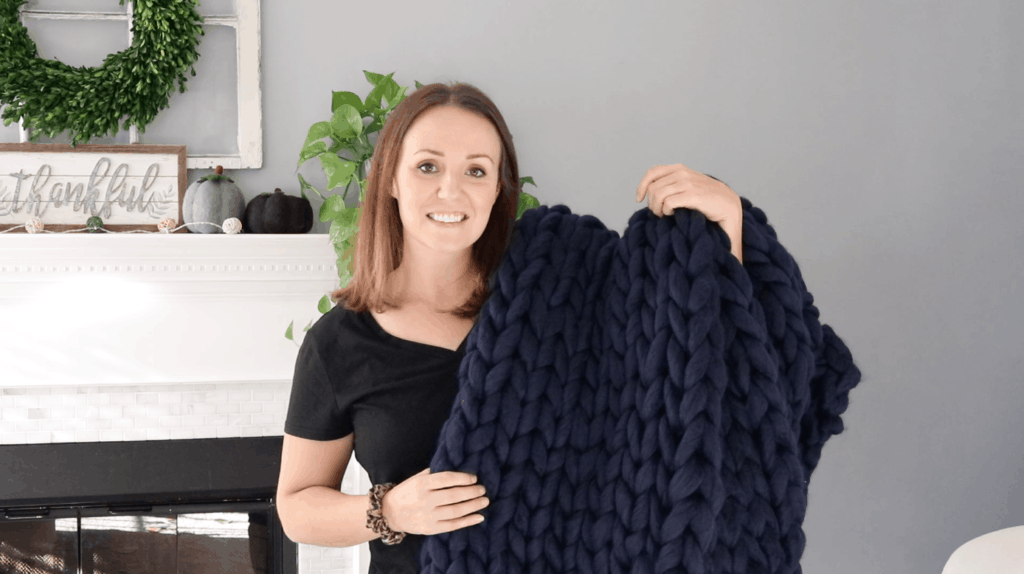 The Best Yarns For Chunky Blankets
I have used a lot of different yarns to make blankets over the years. Some were a success and others were not. I'll save you from making the same mistakes as I did and give you all the details on the best yarns to use for making DIY chunky knit blankets.
Couture Jazz Yarn
This yarn called "Couture Jazz" by premier yarns is hands down my favorite yarn for the chunky blankets. I feel like the size and texture is just right. The yarn comes in the most beautiful colors, like this pink, or gray. You can even buy the couture jazz yarn in larger packs on amazon, like this 6 pack for a really great price.
Besides the beautiful texture and colors that this yarn offers, I also really appreciate that the yarn doesn't shed. So keep that in mind when deciding on a yarn to use.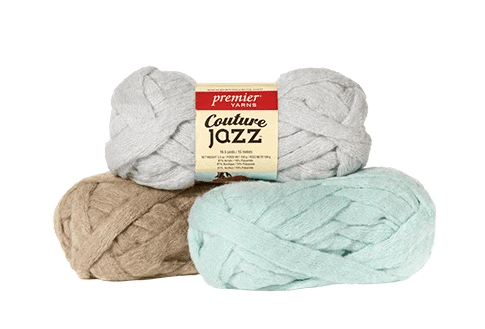 Chunky Luxe Big Yarn
I like this yarn because it can be picked up at your local Michael's store, or ordered online as well. This yarn is a little thinner and has a different texture than the couture jazz that I mentioned above. The chunky luxe big yarn also has a beautiful array of color options to choose from.
Something less than ideal about this yarn is that it does shed. You will find little pieces of the yarn on your clothes and your couch. It's not terrible, but definitely something I wanted to mention.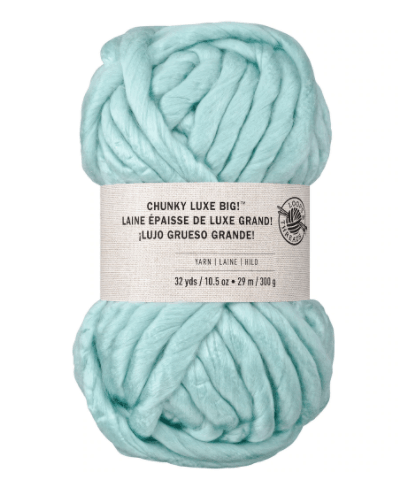 Loop Yarns
Another great option is the loop yarns. These yarns make this already simple process of making a blanket, even easier! The downside is that the yarn is not quite what I would consider "chunky", it has a little bit of thickness to it, but it's definitely the thinnest yarn I am suggesting. It makes up for being a little smaller in the beautiful color options and ease of making the blanket.
I love this colored loop yarn and will be having a post really soon about how to make a blanket using this type of yarn, if you are looking for one.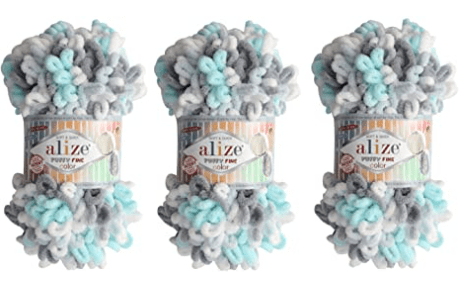 Can I Wash My Chunky Knit Blanket?
In some cases, yes, but it depends entirely on the type of yarn that you use. So before you throw your chunky knit blanket into the washing machine, make sure to check the yarn packaging and follow the manufacturer's instructions.
Personally, I hand wash all of my blankets, just to be on the safe side. They don't get that dirty because they aren't used daily, so a quick hand washing and then lay flat to dry works great for my blankets.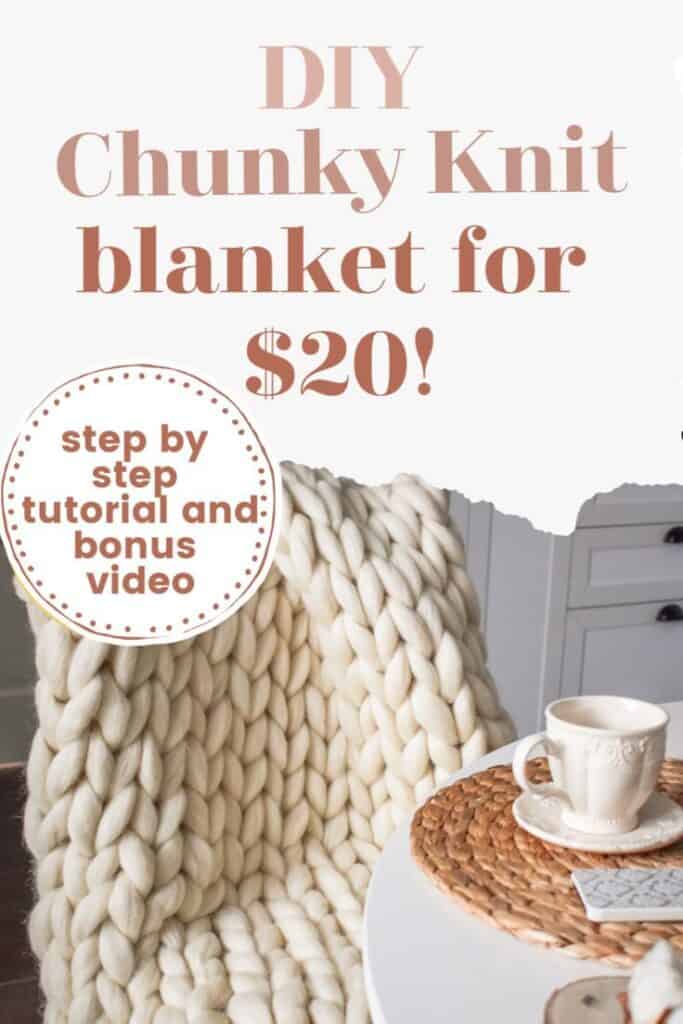 Supplies To Make A Chunky Knit Blanket
You will be thrilled to know that the supplies list for these chunky blankets is very short. Mostly you will need to pick out your yarn, but a good pair of scissors helps too.
Yarn of your choosing, jazz couture, chunky luxe big or loop yarn.
That's it!
DIY Chunky Knit Blanket Tutorial
Alright, let's jump right into the blanket tutorial. If you prefer to watch the tutorial, instead of reading about it, check out my video tutorial below for this chunky knit blanket DIY.
The Hand Knitting Technique
As I mentioned, this technique uses only your hands. No knitting needles or knitting experience is required. It is very beginner friendly and anyone can do it.
On a large flat surface, such as a table, let's get started making our chunky knit blanket.
Start by making a slip knot in your working yarn.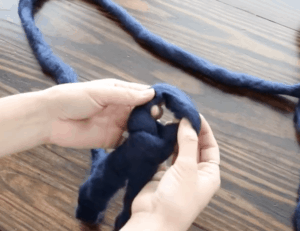 Next we are going to begin our chain, so using your thumb and pointer finger reach inside of your slip knot and grab the working yarn and pull it through the loop and that is 1 chain.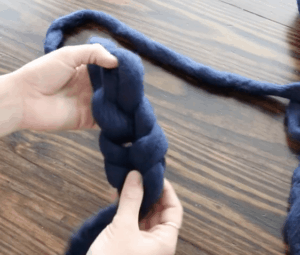 You get to choose how many chains you do. This chain is the foundation for your chunky knit blanket, so as wide as you want your blanket to be, is as wide as you make your length of chain stitches. I use my measuring tape to measure ever 10-15 stitches to see if I have made my chains long enough.

The Hand Knit Stitch
Once you get your length of chains to the width that you want your blanket, it's time to begin our first "real" sitches. Skipping the first stitch near the end of your chain, stick your thumb and index finger through the top of the stitch and pull a loop of yarn through the loop. You can pull a large loop if you want your blanket to have a more loose knit, or you can pull a smaller loop if you want your blanket to have a tighter knit.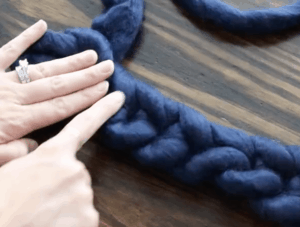 Continue this stitch in every single chain, all the way down the length of your chain. Once you get to the end, you will skip the first stitch and begin the same process going back down the other direction. Continue this until you get your blanket to the length that you want.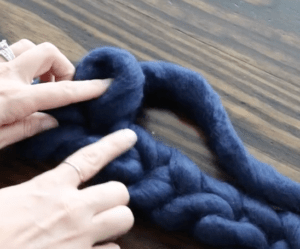 How To Add A New Skein To Your Blanket
When it's time to add a new skein of yarn, don't worry, that's super simple as well. Simply tight the new yarn onto the working yarn, hide the knot on the BACK of your blanket, that part is important! And then just continue making those stitches all the way up the blanket.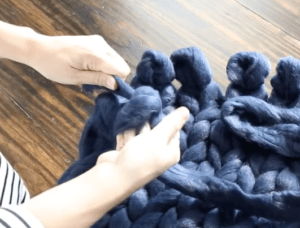 How To Finish Your DIY Knit Blanket
Once your blanket is the desired length, it's time to finish off your blanket. Grab two of the loops in your left or right hand, depending on which side you are ending on. I ended on the left side. So I grabbed two loops with my left hand and threaded the working yarn through those two loops towards my left hand.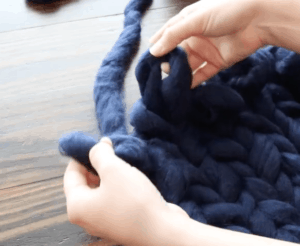 Let the two loops go and now you have one loop in your left hand. Holding that one loop in your left hand, grab another loop from the blanket and pass it to your left hand. Then with your right hand, again, pass the working yarn through the loops towards your left hand and pull the yarn out and you are left with one loop in your hands. Continue that until you get all the loops secured down the blanket.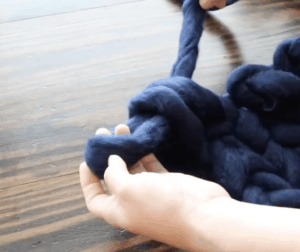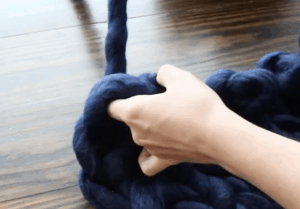 Once you have made it down the blanket, pull the working yarn through the last loops and pull to tighten it up, cut a 6-8″ tail for the yarn to weave into the blanket. Using your hands, weave the tail into the back of the blanket by looping it under and over the stitches to secure it.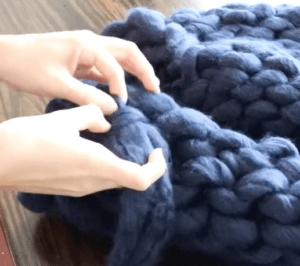 How To Finish The Blanket
The very last step is to turn your chunky knit blanket over and make sure all the spots where you joined the yarn is knotted tightly. If they are knotted tightly, go ahead and cut the tails off so you can't see them.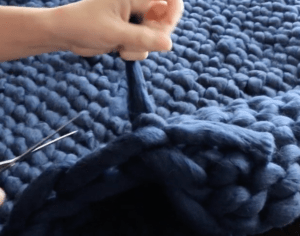 And that's it! Can you believe it?! You just made a chunky knit blanket using only your hands and some yarn! It's super fun to do and you can't beat the texture and coziness these chunky blankets bring to a room.
Chunky Knit Blanket FAQs
Over the past 5 years I have gotten a lot of questions about chunky knit blankets and how to make them. Here I will cover some frequently asked questions on making chunky knit blankets.
How much yarn do you need for a chunky knit blanket?
This answer will depend on the size of the blanket you are making. For smaller baby blankets I used 2-3 skeins of chunky yarn. Lap blankets 3-4 skeins. For throw blanket 7-8 skeins and on from there.
Are chunky knit blankets worth it?
Yes they are. Because of my technique using only your hands, it is actually quite simple and inexpensive to make a chunky knit blanket yourself. You can choose whether you want to invest in real wool at a higher price or synthetic bulky yarns for a lower cost. The options for colors and sizes are endless.
Why are chunky knit blankets so expensive?
The knit blankets with the super high price tag are usually made of merino wool. Those blankets are heavy and very high quality, thus the higher price tag. But if you use my tutorial to make your own chunky knit blanket with synthetic materials, you can have one for as low as $20.
What is the best size for a chunky knit blanket?
My favorite sizes are lap blankets and throw blankets. Lap blankets are about 35×40 inches and throw blankets are 40×60 inches. So
feel free to make smaller or larger depending on what you plan to use it for.
Are chunky knit blankets washable?
Some are and some are not. This all depends on the type of material you use. Make sure to follow the manufacturers instructions on the yarn packaging. It will tell you if you can machine wash or if hand wash is best.
Are chunky knit blankets warm?
Yes they really are. Another thing I love about them? They are super heavy. I love the weighted feel of these blankets and snuggling up with one never gets old.
How many stitches across for a chunky knit blanket?
This will depend entirely upon how large you want your blanket. I start making my foundation stitches and measure as I go. Once the foundation chain is the length that I want the blanket, I stop and begin the rows.
How many hours does it take to make a chunky knit blanket?
The average throw blanket using my techniques can be made in 1-2 hours. Lap blankets usually about 1 hour.
Other DIY Tutorials You Will LOVE:
Thank you for joining me for this DIY chunky knit blanket tutorial. I hope you enjoyed how simple this hand knitting technique is. Let me know if you have made one in the comments!