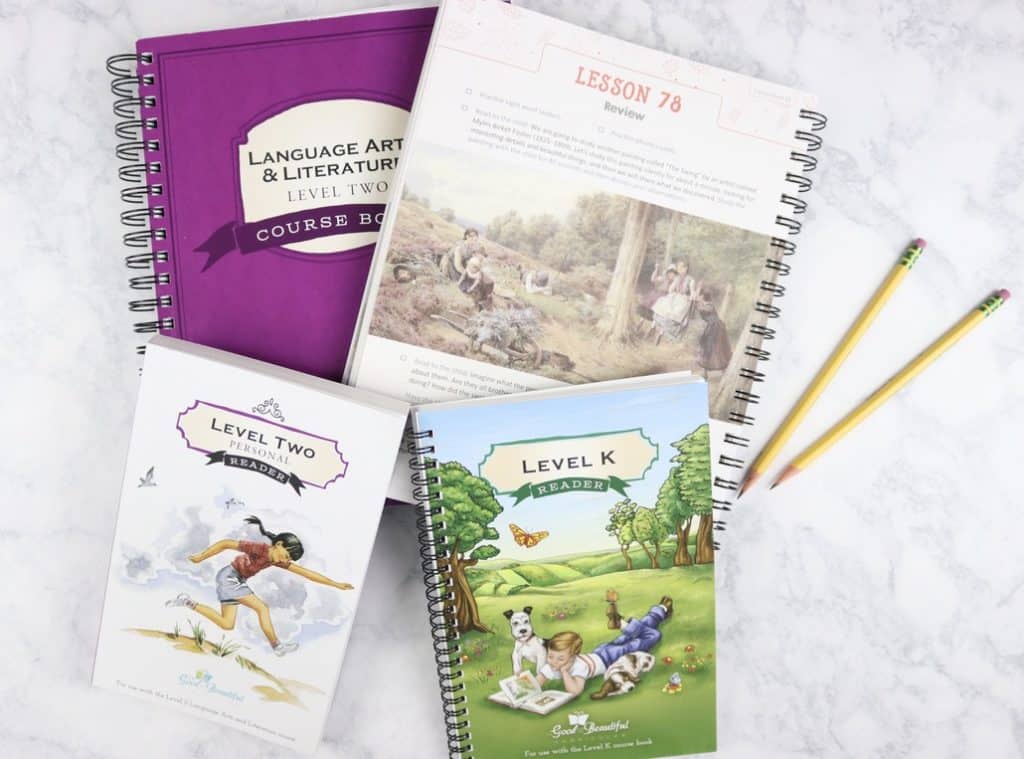 Join me as I share a complete review of The Good and the Beautiful curriculum. This homeschool curriculum has been super popular over the last fews years and for good reason. If you are wondering if The Good and the Beautiful curriculum may be right for your homeschool, keep reading.
What Is The Good and the Beautiful?
The Good and the Beautiful is a homeschool curriculum with a wide Christian worldview. It is best known for it's beautiful and rich, language arts curriculum. The company has expanded their offerings to cover math, history, science and handwriting.
The Good and the Beautiful was founded by Jenny Phillips in 2015. She is a fellow homeschooling Mother and she was inspired to write this curriculum because she had trouble finding a homeschool curriculum that she loved.
Jenny had specific goals for writing this new curriculum. She wanted the subjects to be combined for more meaningful learning and to ensure shorter school times. She wanted the curriculum to use completely clean and powerful literature. The curriculum needed to emphasize God, nature and high moral character. And lastly, the curriculum needed to be open-and-go and visually beautiful and engaging.
Jenny Phillips has a degree in english with work experience in writing, editing and teaching. She spent two years developing this curriculum before launching it into the world, 5 years ago. She now has over 70 employees and 90 product offerings.
If you are brand new to homeschooling and need some basic "getting started" tips, you can check out my post on that here.
What Subjects Does The Good and the Beautiful Cover?
This company is constantly expanding and improving their offerings. You can find most all of your homeschool curriculum on their website. The Good and the Beautiful currently offers language arts, math, handwriting, history and science.
Each of their curriculums are loaded with beautiful art, interactive lessons and they make homeschooling fun! The subjects covered are academically solid and filled with character-building literature.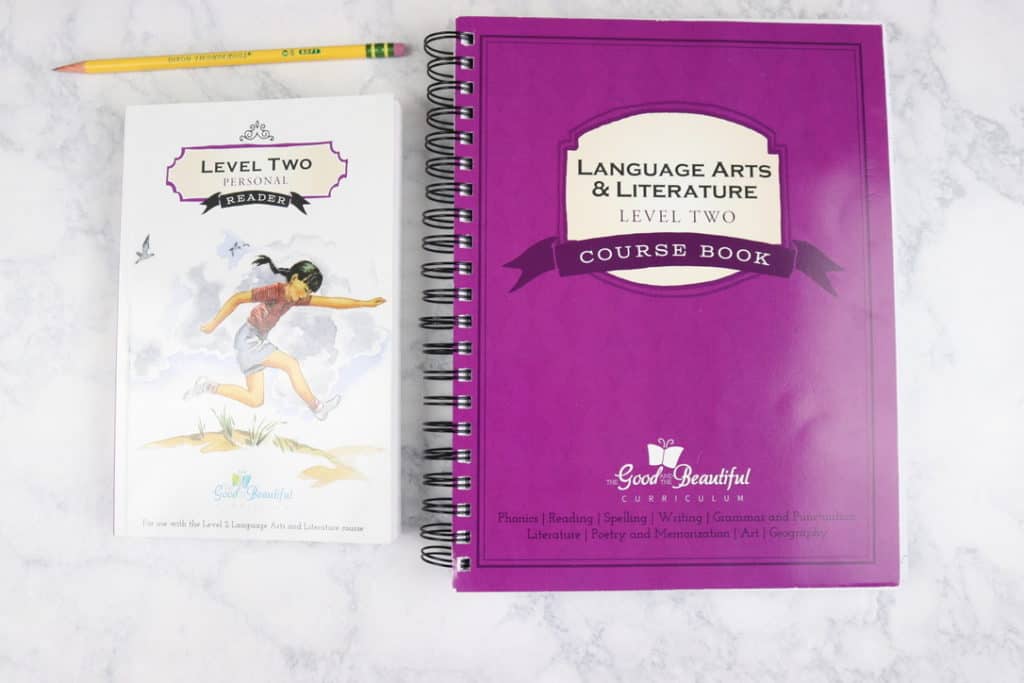 Is It Expensive?
No! I am constantly shocked at how reasonably priced this curriculum is! I have found it to be less expensive than most homeschool curriculums and that thrills me!
The good and the beautiful works to keep their profit-margin low so they can offer their wonderful curriculums for reasonable prices. I, for one, am SO grateful!
Is This Curriculum Mormon?
There is quite a bit of controversy surrounding this subject, so I will attempt to tread lightly. The good and the beautiful curriculum is written by Jenny Phillips who is a mormon. However, the curriculum does not teach doctrine specific to any christian denomination.
The good and the beautiful takes a general Christian worldview, focusing on high moral character and basic Bible principles. As a Bible-believing Christian, I have not found anything in this curriculum that concerns me with regards to doctrine.
The good and the beautiful even takes it a step further and has their curriculums reviewed by members of many different faiths to to ensure that there is no doctrine specific to any Christian church. Straight from their website it says they have reviewers from many denominations: Lutheran, Assemblies of God, Catholic, Jehovah's Witness, Mennonite, LDS, Methodist, Non-Denominational and the list goes on.
So hopefully that answer the Mormon question that everyone wants to know!
Is The Good and the Beautiful Curriculum Free?
Yes! Well, sorta! Most of their curriculum costs, but they offer levels 1-5 of their language arts curriculum as free PDF downloads on their website. That is unheard of. You can get their fantastic LA curriculum for FREE. The good and the beautiful language arts is my absolute favorite curriculum they offer, so if you need to save a little money, consider printing the PDF at home.
You can find their free downloads here. And if you are looking for additional homeschool resources that are free, check those out here.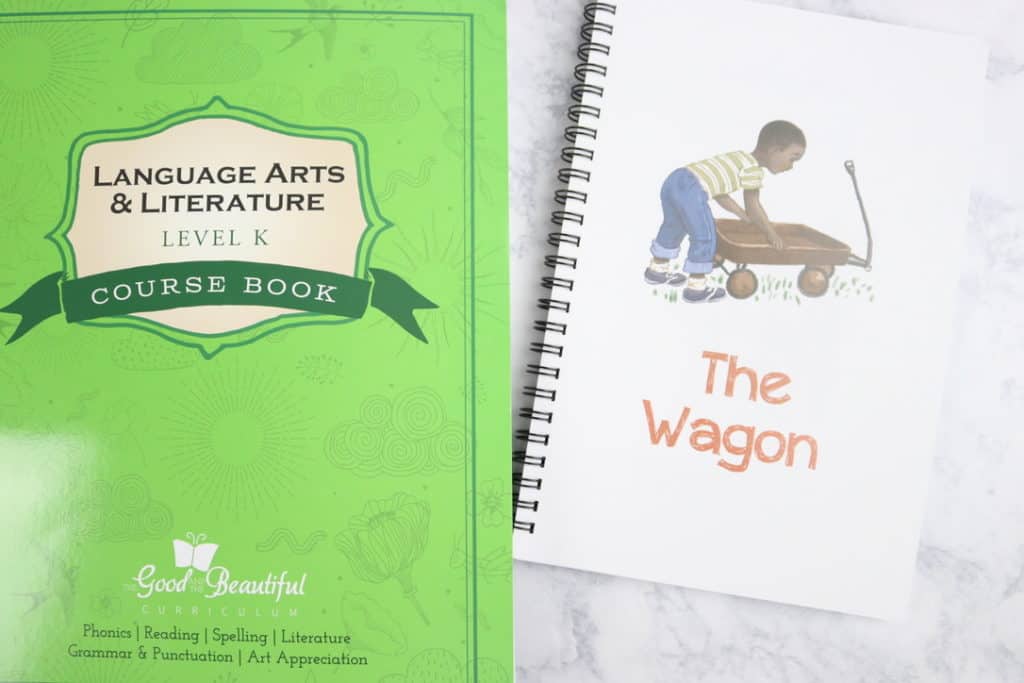 Do You Have To Lesson Plan With The Good and the Beautiful?
No! Another fantastic thing about this curriculum is that it is "open and go", which means there is virtually no lesson planning or prep time. Each lesson is laid out very simply and it gives you the script to explain the new concept to your child.
Some lessons have a few supplies that you may need to grab. But I have found that most of them are already in our home and require no forethought. Like cotton balls, qtips, buttons, fly swatter etc.
As a mother of 4 children, I fully appreciate the open-and-go approach. I feel like I hardly have time to go grocery shopping, let alone go shopping every week for popsicle sticks, red food dye, pipe cleaners or whatever else the activities may require. The good and the beautiful keeps things simple and I love that.
Can I Teach Multiple Grades With The Good and the Beautiful Curriculum?
Yes you absolutely can! Because there is virtually no prep-time or lesson planning I think the good and the beautiful is perfect for families with multiple grades in their homeschools.
I have a 2nd grader this year and two 1st graders and we are using the good and the beautiful language arts for all 3 of them. It's incredibly easy to teach each child individually. The lessons are short, but very rich academically.
I do choose to teach each of my children separately. I really enjoy the one on one time with each child and I find that I have more patience when I am just focusing on one at a time.
If you would like to see me doing a lesson with my daughter, you can watch that here.
I have tried sitting everyone at the table and hopping from child to child to answer questions, read the scripts and guide them, but I lose my patience pretty quickly in that scenario – especially with a 2 year old running around 😉
So I prefer to stick with individual, focused time with each child. But you do you 🙂 If you would like to see an example of our daily routine, you can check that out here.
Also, if you have younger children that you need to keep busy while you teach the older kids, check out my 24 activities for children here.https://www.raisingnobles.com/24-read-aloud-activities-for-all-ages/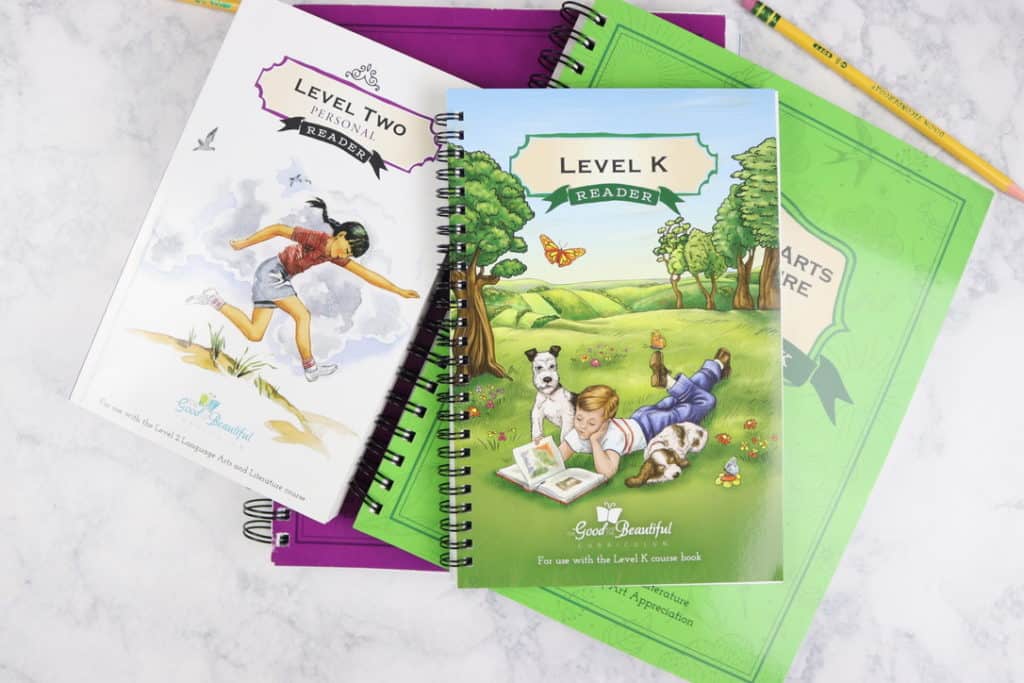 The Good and the Beautiful Language Arts Curriculum
How do I love thee? Let me count the ways. This language arts curriculum is what my homeschool-mama dreams are made of. There is such a richness and beauty in it. Each lesson builds on itself slowly and beautifully.
Jenny Phillips(writer of TGATB language arts curriculum) is a best-selling author with a degree in English. She has work experience in magazine writing, technical writing, fiction writing, editing and teaching language arts. She developed this curriculum through years of study and with the help of a team of specialists.
On Jenny's website, she talks about how a great writer is developed. She says it happens over many years through reading a large amount of quality literature. By reading high-quality literature, it helps the child to understand the principles of effective writing and builds a creative and academically strong mind.
For a young child, writing can be very overwhelming. There are all these grammar rules, punctuation, letter formation and so on. Often a child has creative writing ideas in their minds but are unable to put them on paper because of the overwhelming amount of rules to follow.
The language arts course helps children gain a confident foundation in writing by showing examples of great stories and poems throughout the course. The children learn handwriting, punctuation, grammar and how to summarize and organize information through oral narration.
The language arts course covers phonics, reading, spelling, literature, grammar & punctuation and art appreciation.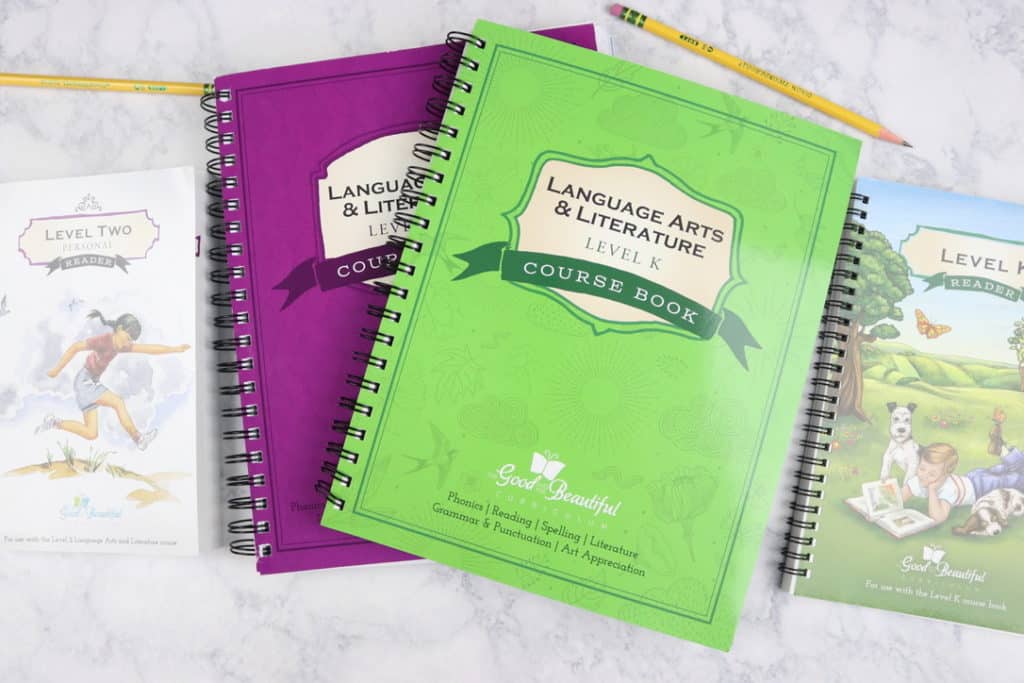 How Long Does The Good and the Beautiful Take?
This question will depend on the level you are doing, but in our homeschool the good and the beautiful takes between 15-30 minutes to complete a language arts lesson.
You will also want to take into account the maturity of your child. For instance, my daughter can fly through a lesson with no issue, she grasps the concepts well and can keep up easily. However my boys are different, new concepts take more time and practice and that is OK! Let your child go at their pace – no need to rush them!
Is The Good and the Beautiful Advanced?
This curriculum goes by levels and not grades, so you will want to take the assessment test before ordering your curriculum. But for example, if you compare level 2 to 2nd grade public school course work, you will find that it is definitely advanced.
I generally like that TGATB is advanced, it has served my daughter well. However, my twin boys are quite different from her. They needed to use a different language arts curriculum for their kindergarten year because the good and the beautiful is so advanced, then we moved on to the good and the beautiful level K primer which has been fantastic for them. We are completing the primer this summer and will hopefully make a seamless transition into their language arts level K curriculum this fall. My boys will technically be in 1st grade, but they are not ready for the level 1.
Homeschooling offers so much freedom and flexibility. I love that I was able to see my boys' needs and adapt accordingly. Not just try to shove them into the one-size-fits-all mold. Homeschooling is my favorite, if you couldn't tell 😉
The Good and the Beautiful Library
A newer offering from The Good and the Beautiful is their library. Their mission of the good and the beautiful library is to bring back whole, high-quality books. To offer new uplifting literature and clean-language versions of worthy classics. They also wanted to gibe parents a place to buy books that are reliably rich in literature but clean, uplifting and of high moral character.
Their reading levels roughly match the average reading level of public school, but I suggest that you take their reading level assessment so you know exactly what you should order for your child.
I shared a good and beautiful book haul over on my youtube channel if you would like to see it, click here.
Some of our favorites from the good and the beautiful library are:
Hellen Keller
Peter the Persnickety
Anne Marie's Reading Adventures
Prince Percy and the Big Red Ruby
Maria's Many Colors
The Treehouse Town series
The Little House on Stilts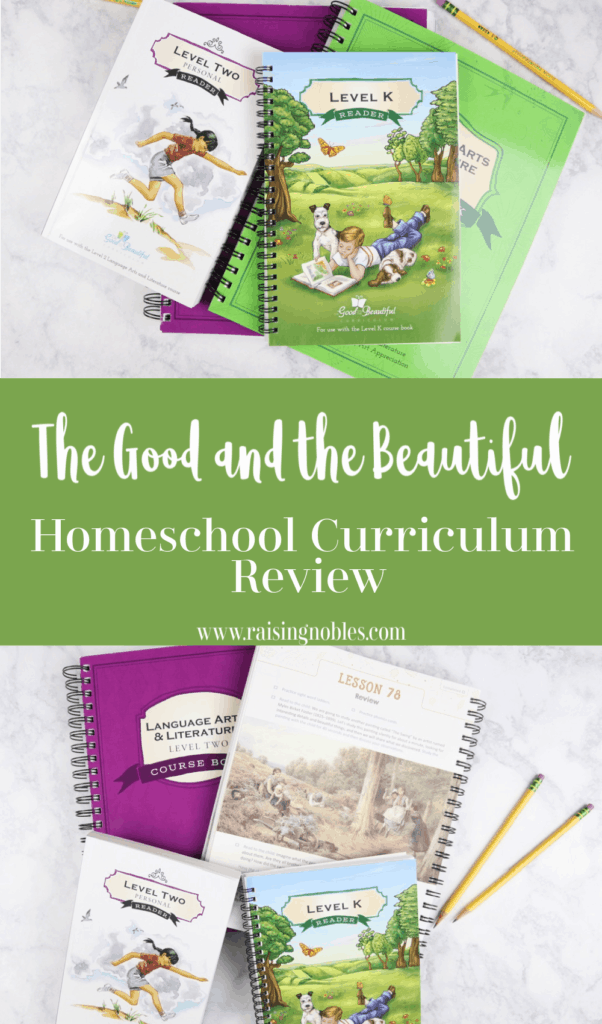 Does The Good And The Beautiful Curriculum Ship Worldwide?
Yes! The good and the beautiful can ship worldwide and they don't up-charge you, they charge you exactly what the postal service charges them – such a great company!