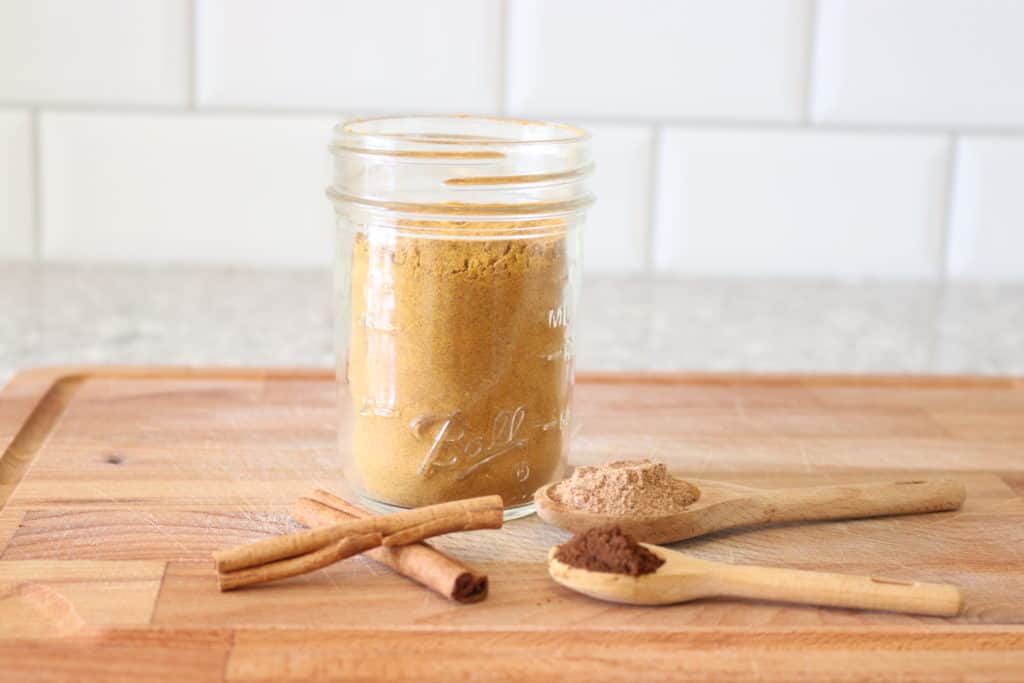 The delicious blend of warm spices and added health benefits of turmeric in this caffeine free chai latte mix makes this a go-to drink for me. It takes less than 5 minutes to make and you just add a couple scoops to warmed milk and you have a delicious turmeric chai latte.
*Disclosure: Some of the links are affiliate links, meaning, at no additional cost to you, I will earn a commission if you click through and make a purchase.
Earlier this year I encountered some health issues. I saw a fantastic nutritional therapist and she told me I needed to cut all caffeine out of my diet because it is "liquid stress for the adrenals". I know most of you reading this probably can't imagine giving up your precious coffee, but I am so glad I got rid of it. I feel so much better and I don't need the caffeine to wake me up anymore. Natural energy is far better, trust me 😉
Because I still loved that warm drink ritual, I started venturing out and trying new drinks. I loved golden milk and caffeine free chai mix drinks. Various teas, like rooibos and I also found a great decaf coffee that is 99% caffeine-free and it's organic! It's my favorite if I am really missing that coffee flavor, but I don't drink it daily, maybe once a week or so.
I wanted the health benefits of turmeric, but I also wanted the chai flavors, so I combined the two and the result was amazing. Truly one of my favorite hot drinks to date. I love to make mine bullet-proof style with unsalted grass-fed butter and organic coconut oil and a smidge of raw honey. Mmm!
The Ingredients
Turmeric
Curcumin is the main, active ingredient in turmeric and it has powerful anti-inflammatory effects and is a strong antioxidant. Curcumin is best absorbed in the body when it is paired with black pepper, which this recipe has in it.
Cinnamon
Cinnamon has a lot of power medicinal properties. It is loaded with antioxidants and like our buddy, turmeric, cinnamon also has anti-inflammatory properties. It's also been show to lower or stabilize blood sugar levels.
This recipe also has black pepper, cardamom, nutmeg and cloves. These spices combined make for a powerful, delicious, slightly spicy drink. Let's get into the recipe…
Caffeine- Free Turmeric Chai Mix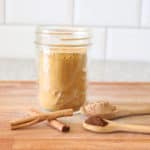 Slightly spicy and completely delicious.
4 Tbsp Cinnamon
3 tbsp Ground Turmeric
3 Tbsp Ground Ginger
4 tsp Cardamom
1.5 tsp Black Pepper(more up to 3 tsp if you like it real spicy)
3/4 tsp Nutmeg
3/4 tsp ground cloves
Combine all ingredients in glass mason jar. Shake well and store with air tight lid.
Ingredients with Amazon links for your convenience:
Now that you have your mix ready to go, here is my favorite way to make a turmeric chai latte.
8oz warmed milk
1 to 1.5 tsp turmeric chai mix
1-2 tsp unsalted grass-fed butter
1 tbsp organic coconut oil
small amount of raw honey or maple syrup to taste
Warm milk on the stove, add all ingredients to mug and mix well. I like to use this handheld milk frother to mix mine.
I hope you love it as much as I do!
Want to PIN IT for later? How over this image until the red "pin it" button appears.